A friend of mine told me about this site – https://www.ici.insurance/index
He knew I did a deep dive for the folks at Larson & Brown and asked if I minded doing an analysis for ICI Insurance. What would I suggest, from an SEO perspective?
My name is Matthew Rupp and I have helped dozens of local businesses, right here in Wichita, get more website traffic and improve their rankings on Google.
In 2011 I owned Big Sky Party Rentals. After hiring several companies to help with increasing my ranking on Google, and becoming increasingly frustrated with the results, I set out to teach myself how to accomplish this. In less than two years, I was #1 on Google for 64 different keywords and on the first page of Google for 119 keywords altogether. You can check out my entire story (it's pretty cool) here:http://www.sawwebmarketing.com/about/ . Since then I have continued to learn and stay up-to-date on the latest and best SEO practices that produce results. I turned my frustration into a new business and today I give talks on the subject and have helped dozens of companies, many of which are right here in Wichita.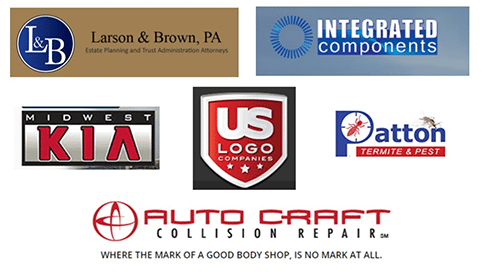 It's hard for business owners
On one hand, ranking well on Google is absolutely critical today.
On the other hand it's hard to know WHO to trust.
I know what you are dealing with:
-The phone book (HIBU now) – Makes such outlandish claims, it should be illegal.
-Every 2 bit huckster who read a handful of blog posts and is now an 'expert'.
-The guys who claim 'expertise' but put all their customers into the same box.
-Not to mention THOUSANDS of directories (Yelp, Citysearch, YP.com) who claim to have piles of leads just begging for somebody to do business with.
-And top it off with 4 billion automated phone calls offering to 'help' you claim your free business listing.
I decided to rise above the 'noise' and do something different. I identified a company I would enjoy working with and I wrote a HUGE (massive) plan for exactly HOW they could start dominating their industry (here in Wichita) on Google. I put a great deal of time and research into it and put it on my blog (to make it easy for them to read, click links and share with others) – http://www.sawwebmarketing.com/7716-words-will-make-larson-brown-1-google/
Turns out they liked what I sent them. I was surprised when they printed it out at our first meeting and it was 76 pages long. We are working together today to implement that plan and have already seen dramatic results.
Before we jump into the Insurance Center website let me clarify a couple things real quick that might be helpful.
-Google makes billions of dollars selling ads at the top of the organic (free) listings.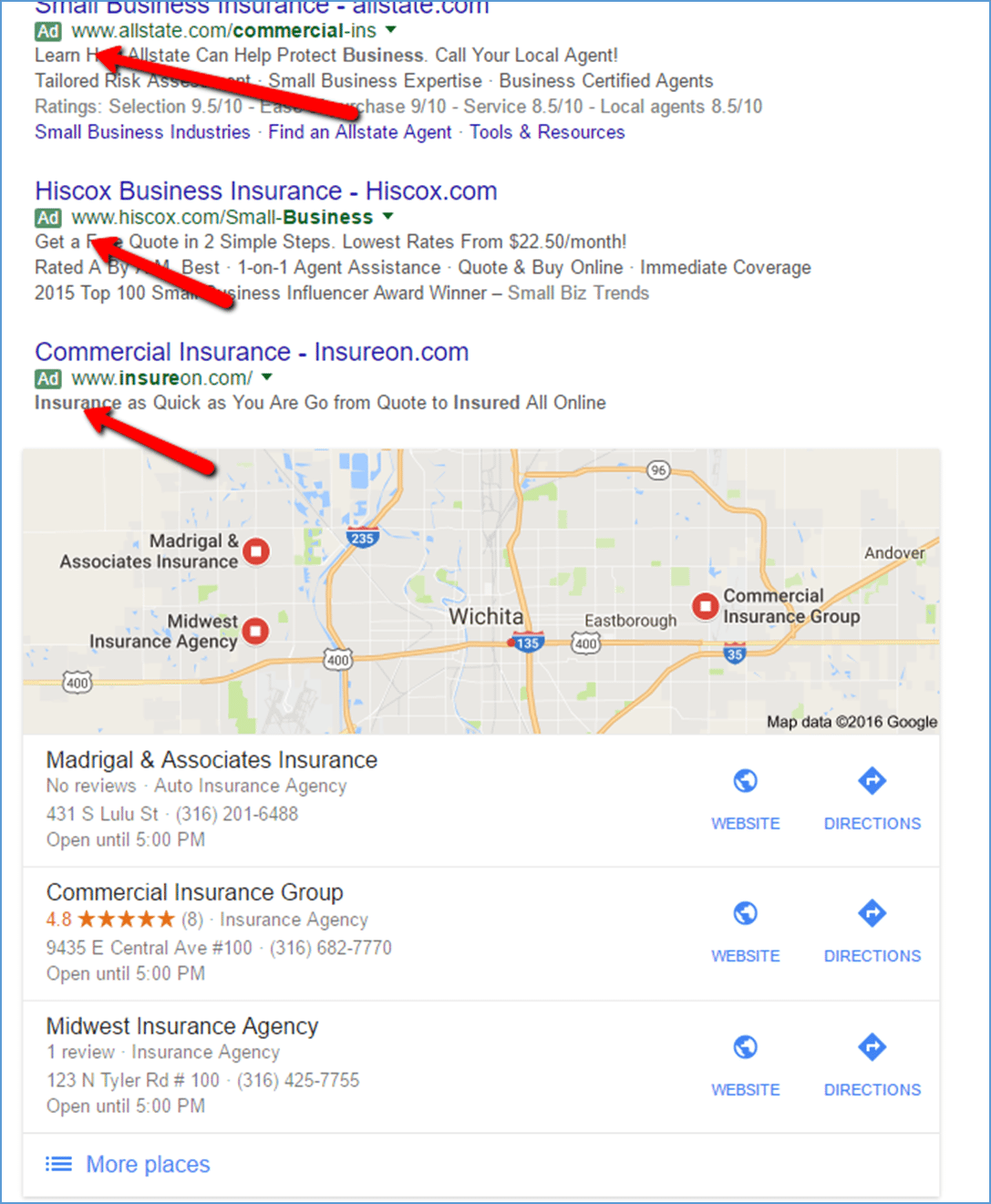 -Who is Googles 'customer'? It's not the companies spending all the money on those ads and it's certainly not the businesses who benefit from being at the top of the searches and don't pay Google a cent. It's the end user. Think about it. People having a great experience when they use Google to find the answer to just about anything they ask is what keeps them coming back. Nobody is using Google because of the great ads. They use it because they know how great Google is at returning relevant, useful information.
-Ok, so now we know Google makes mountains of cash returning the best possible result (based on what was searched for) and they have a vested interest in getting better and better at returning the very best result – what should the goal of your website and online presence?
To BE the best possible result.
I know easier said than done. But, take heart, I can show you how to do it.
When I give talks on Local SEO and work with new clients I always find it helpful to explain it like this:
-Think about your customer. Really get clear on who they are. Your ideal customers. The good ones.
-What is their pain point? What do they care about? What problems do they have?
-How can you help them?
If you think about your website and your online presence from this perspective you are aligning yourself with what Google is looking for. There is no better way to begin an intelligent and aggressive campaign to dominate your niche than to get on the same team as Google.
** When I say 'Dominating Google' I am referring to your industry and in your market. **
It drives me crazy that ranking high on Google has so much 'nonsense' and mysticism attached to it. Yes, it is complex and constantly evolving and challenging but at the end of the day if you boil it all down and ask 'WHATS THE POINT?" The answer is it's not about algorithms and updates and AI it's all about when somebody types in 'commercial insurance in wichita' they don't get this site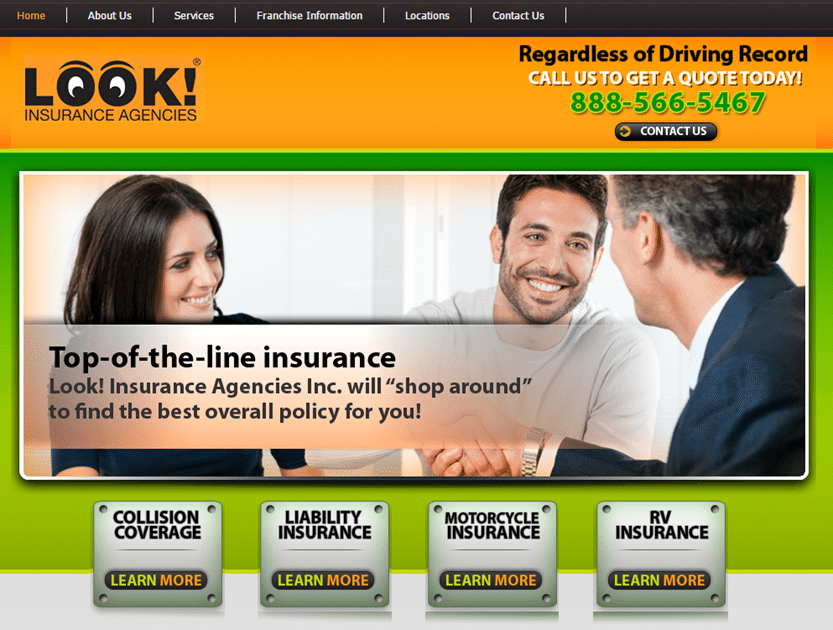 They get a site that loads super slow or isn't mobile friendly it isn't those companies that person is frustrated with, it's the big G and any company making 160 million dollars a DAY is going to do everything imaginable to avoid that.
So, now that we know what Google is looking for, the very best possible result (based on what keyword is being searched for) and our goal is to BE that best result lets jump in and take a look at the ICI.
Naturally, any peek at the online presence for any business needs to start with making sure they have a website that knows how to work for the business. Very often the biggest impact we make for new clients is sometimes minor tweaks and changes to their website. Your website is 'home base' and needs to build trust and encourage visitors to take that next step. There is no point in improving rankings and increasing traffic to a website if only a small percentage of visitors are 'converting' (reaching out, asking a question, picking up the phone, taking that next step)
When I look at a website I am looking at 4 things:
-Who are you?
-Why should I care?
-Can I trust you?
-What's next?
Who are you?
Many writers make the answer to this question the entire focus of their website. They list qualifications, awards, degrees, credentials, and anything they hope will help "sell" their expertise. But people don't buy credentials. They buy what you can do for them.
I noticed 360ideas built this site. At least it wasn't (hopefully) very costly.
---
-Cookie cutter images
-Boilerplate text
-No address or even a phone number anywhere on the homepage
Without digging past the homepage it's not even possible to tell if this is a 'real' insurance company. The only thing that lets me know they are even in Kansas is this at the bottom of the site

Why should I care?
Tell your visitors enough about yourself that they know you're qualified for the job, and then put the bulk of your efforts into showing people that they're dealing with a human being who cares about them, their problems, and wants to help them find a solution.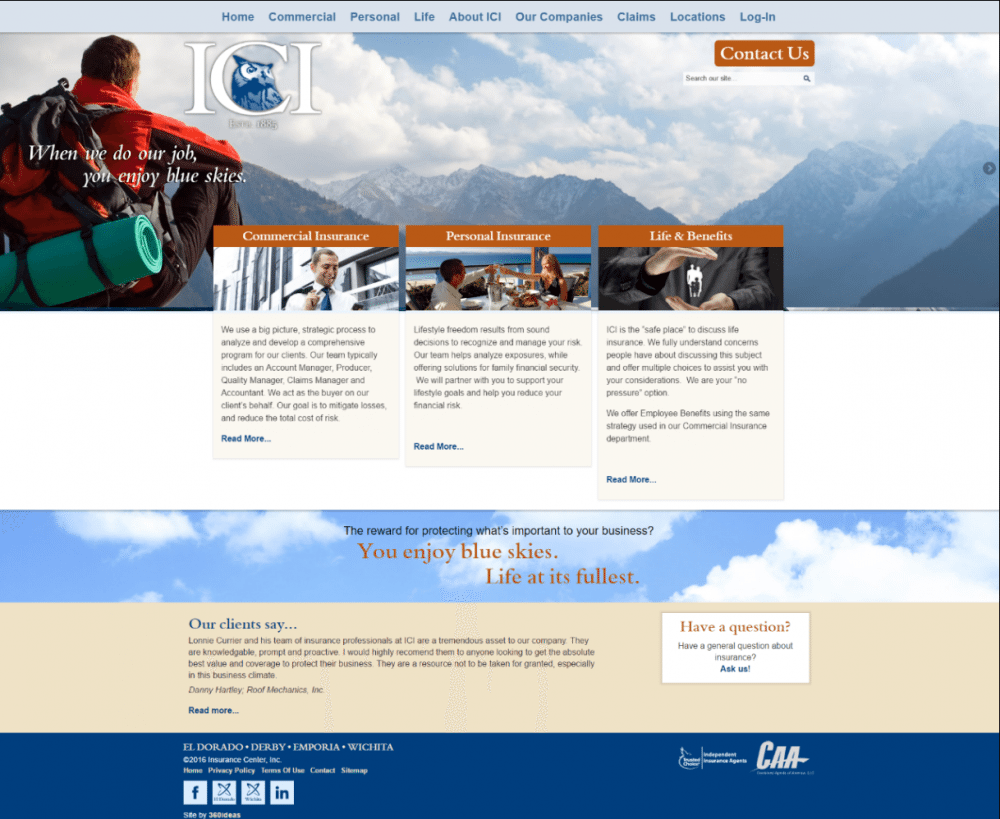 Can I trust you?
While reading your website, your potential client is skeptical. Everyone is. And that person is thinking, "Yeah, right. Why should I believe any of this?" Do you answer that question?
-They do have testimonials which is awesome. With social media today it's super easy to find pictures of people which would give these a LOT more credibility.
A few examples from my site: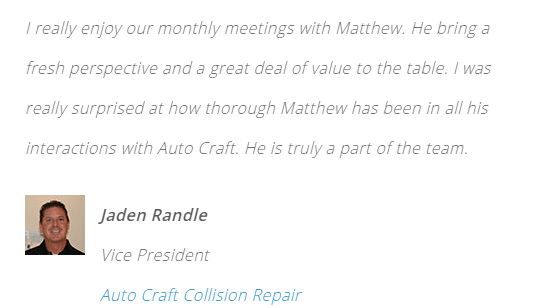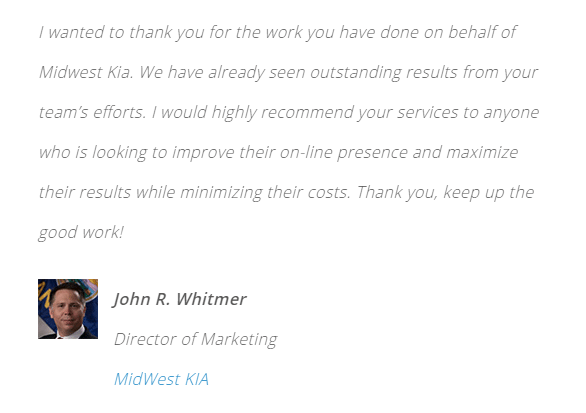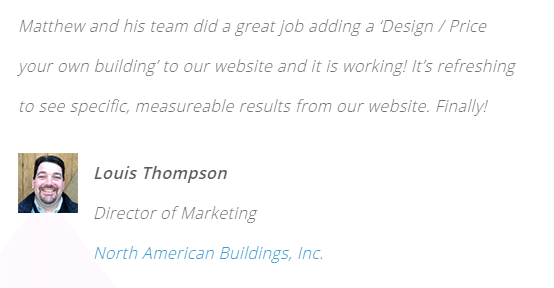 Logos can build trust but I am sure they have a LOT more than these if they are in this many lines of insurance.

What's next?
If your website lacks a clear call to action, you can assume your reader won't take any action at all. They may trust you, like you, and even believe that you can help solve their problem. But don't assume they know what to do next. Take them by the hand, show them the way and leave nothing to chance. Even if the action you want people to take seems obvious to you, point it out anyways.
There is no clear 'path' for visitors to take.
Not very compelling
-The navigation is a hot mess.

There is 'commercial', 'personal', 'life' and then 'our companies' in the navigation except 'our companies' has entire new types of insurance not listed in the main navigation.

I love seeing an 'About' page but it drops down a mess of pages that are NOT helping ICI a bit.
About us – https://www.ici.insurance/about
There is GOOD stuff here. It's buried in thick blocks of text with no 'story' and no images but there is some 'meat' to work with here.
This page links to a history page – https://www.ici.insurance/history
A company that is ONE HUNDRED AND THIRTY ONE YEARS OLD has a tremendous, rich story to tell. There is close to nothing more powerful than a good story when it comes to your 'about' page and 'history' of your business. This is gold when it comes to building trust.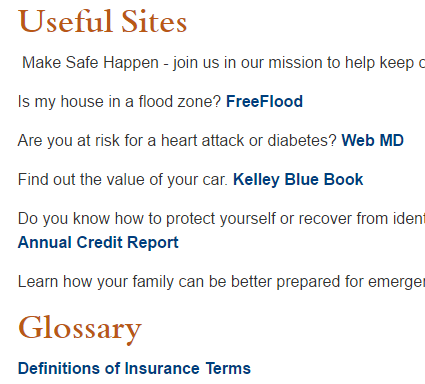 ---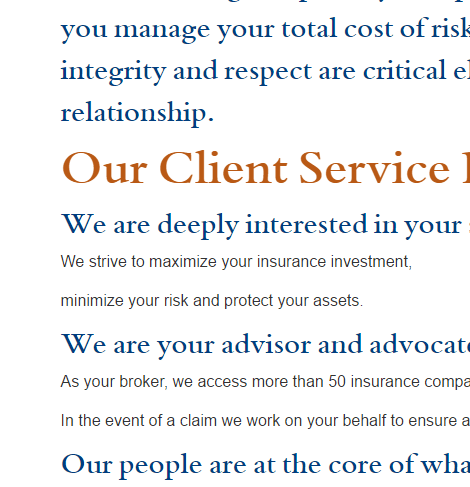 ---
---
Mission – https://www.ici.insurance/our-mission
PRO TIP If you have content on your website that, when read out loud, sounds weird or canned is BAD content. Your website is a reputation of you, what you do and why you are the best choice and worth reaching out to – if there is text, images, video (whatever) on your site that doesn't contribute to that goal – it needs removed. Today if possible.
Few additional items about the ICI website
The logo is an image which Google can't 'read'. The description is simply 'Insurance Center, Inc.' which is a big missed opportunity. It should read something more descriptive and helpful to Google like 'Logo for Insurance Center, Inc. with offices in El Dorado, Emporia, and Derby, KS.
It's important to realize Google doesn't rank websites – they rank pages. If you have pages on your websites that are not bringing genuine, real value to the table they are just HURTING your visitors experience and your chances of ever getting traffic from Google.

-The Title Tag (the tab at the top of the page)
-The URL (website address)
-The text at the top of the page (in bold)
-The content on the page itself
-The video testimonials
-The links reviews
-ALL of these relate to 'dental implants' and a number of them mention 'Wichita'
-This page makes it very easy to understand WHAT Cambridge Family Dentistry does, that they are good at it, and done it for a long time.
-When we jump over to Google Analytics we see that the average time spent on this page is almost SIX MINUTES. That's a long time for anybody to stay on one page of a dental website!
---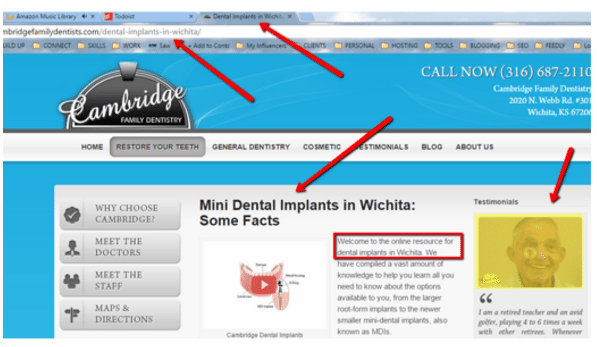 This is a recipe for GREAT rankings! We are giving Google exactly what they are looking for. Fresh, original content, original images, pages that are 'about' one thing, social proof.
The FIRST item that Google suggests in their Starter Guide to SEO is the importance of your Title Tags.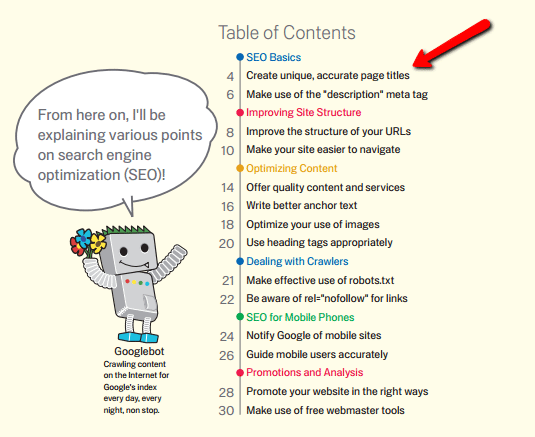 The Title Tag is at the very top of the page (the tab in your browser window) this is your opportunity to tell Google what the page is 'about'

It is common to see the name of the business first and that's a big mistake.
Nobody is looking for your business name. They are searching for things that will solve THEIR problems. For Cambridge the 'pros and cons of dental implants' is a highly searched for set of keywords. Coincidently, Cambridge is #1 for that result and gets a lot of traffic from it!
The ONE shining light this website has going for it – https://www.ici.insurance/our-team
-This is awesome! This is what people are looking for. Real people they can relate to. This lets me SEE this is a 'real' business with people who care. Until I found this page I had no way to know this wasn't a one man shop in a strip mall trying to be everything to everybody.
Now I am enthused. A company this big, this diverse and this strong stands to gain a great deal by dominating their niche!
My guess is the leadership (and probably everybody who is part of ICI knows the websites needs replaced) I know from needing commercial insurance (another lifetime) it's largely a relationship based business and they are likely pretty accustomed to their website not being a source of valuable leads.
I would also guess they, like millions of others business owners, have realized that having a strong online presence is becoming more and more important. I am happy to do the research, if asked, but I think it goes without saying there is thousands of searches a month for keywords related to commercial insurance that ICI offers and that the ICI website is not ranking well for very many important keywords.
RECAP
-Who I am and how I can help
-We touched on what SEO is all about (being the best possible result and building trust)
-We checked out the ICI website (new one is in order)
-Touched on what a 'strong' website page is, Title Tags and navigation
-Found a silver lining (which is a great start we can build on!)
Let's take a look at a few GOOD commercial insurance websites and what is helping them rank so well
http://thumannagency.com/ – Parts of it are a little on the 'cheap' side and look real canned but there is a lot of good things happening with this site (from an SEO perspective)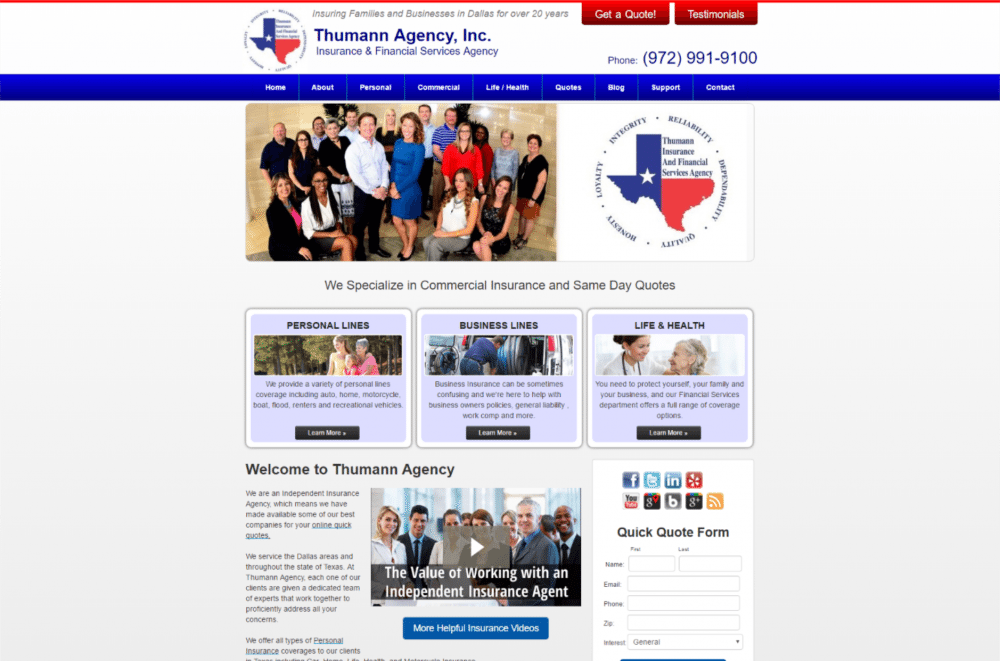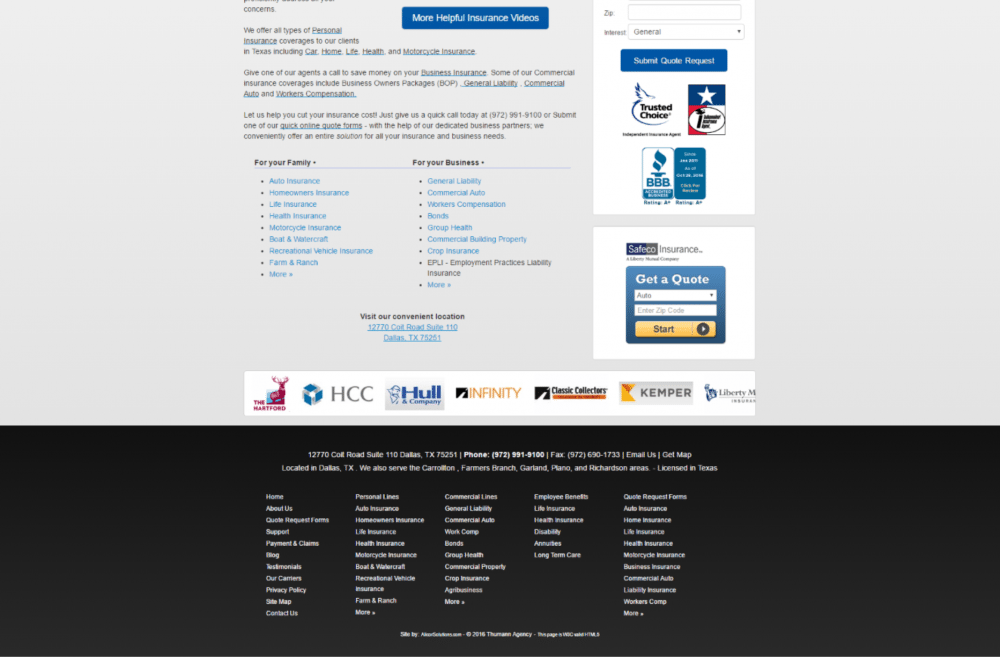 ---
Let's break it down a bit:
Front and center. Who they are and what they do (with a big clear phone number)
---

---
Navigation that is clear, makes sense and look what drops down when you click on 'commercial'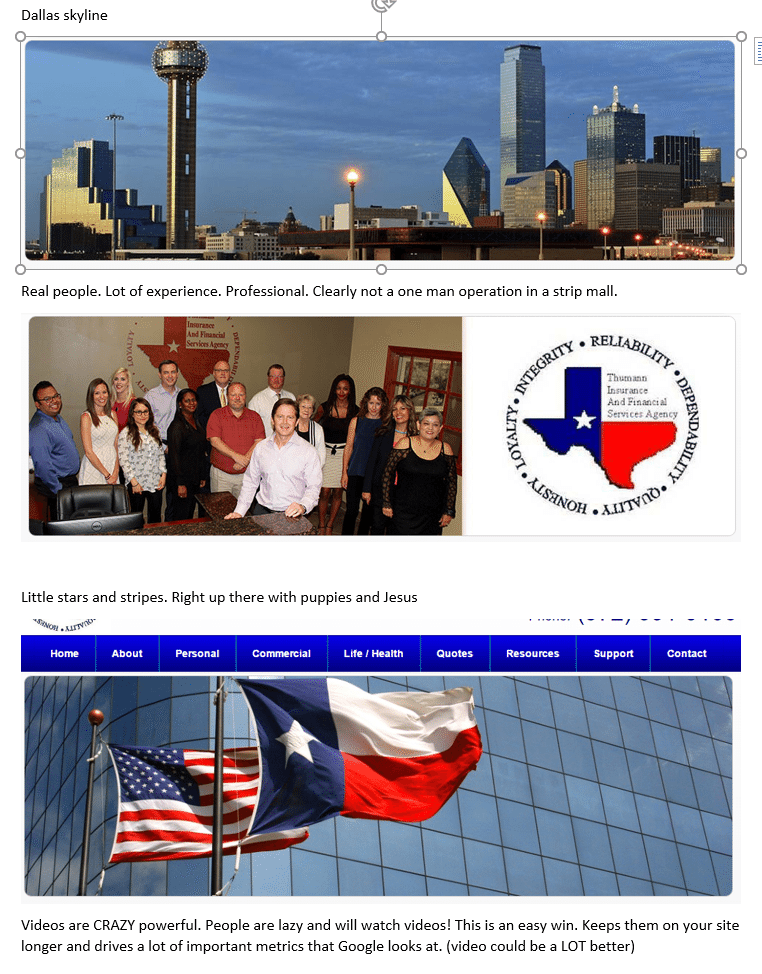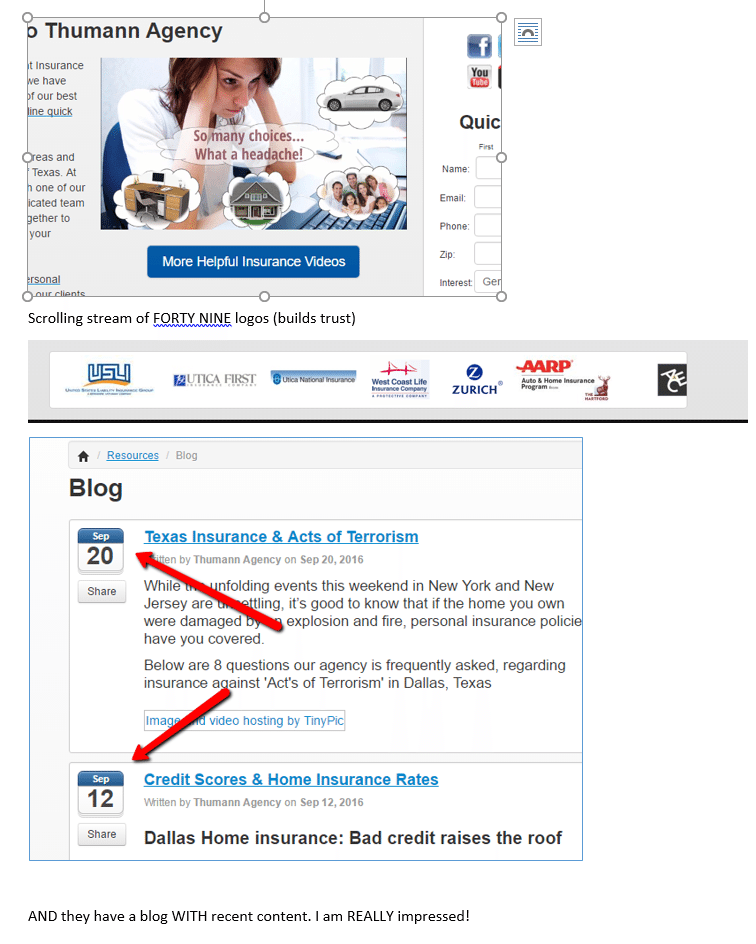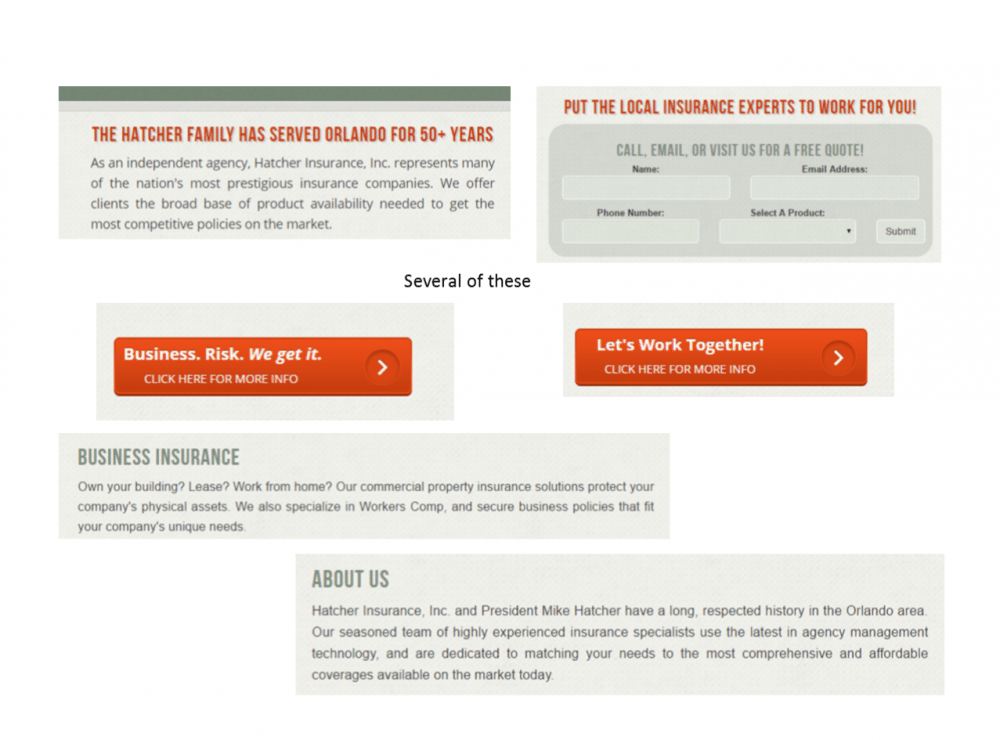 ---
Just from scanning the home page and nothing else. I know this is a family business, they have been in the business longer than I have been alive. They do commercial (and personal) insurance, I didn't see anything 'cheesy' or unprofessional like some of the ridiculous crap I saw to find this one
(example)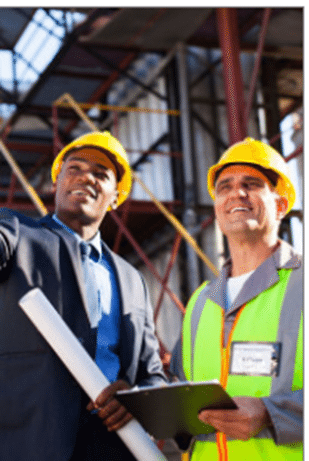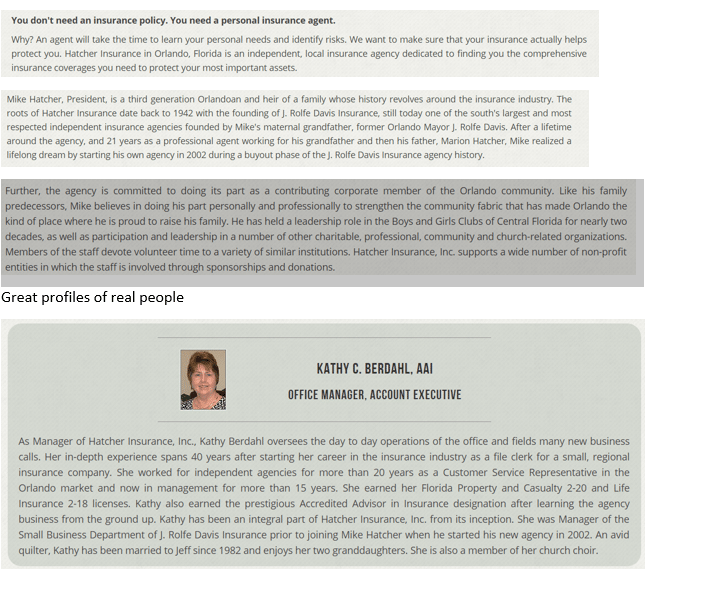 I don't want to drag this out but I LOVE this site – http://suninsuranceservices.com/ (it might seem cheesy but I guarantee this website is a major source of leads for them!)
Plain awful – http://www.lightshipinsurance.com/
I have helped dozens of businesses see improved results from their website and I KNOW how important it is to be genuine, sincere, and honest with your website. One thing we offer all our clients is we install a small piece of code in their website that allows us to see exactly what visitors to their site are clicking on (and what they aren't)
Almost without fail the HIGHEST viewed page (regardless of industry) is the 'about' page. It's always incredible to see how popular it is!
The top screenshot is a view of the Cambridge Family Dentistry website and the one below it is the heat map showing what gets clicked on
Another reason why being genuine, authentic with your website, and more importantly, the content on your site is because that is what resonates with people and will keep them on your site! When visitors to your site stick around for a while, Look at numerous pages, Read your content, watch your videos. Take some kind of action, Google sees this and it impacts how much traffic you get!
Think about it.
If they send website A traffic related to 'commercial insurance' and 50% of those visitors bounce (leave without clicking anything), only look at 1.2 pages and stay on the site for less than 30 seconds how much trust does that convey? Seriously.
Now imagine they send traffic to website B and they do this:

If visitors to your site look at almost 4 pages and spend 3 minutes (on average) on your site that's a LONG time to be on an insurance site. It's very easy for Google to see that when they send this site 'commercial insurance' related traffic CLEARLY the content, the images, the navigation resonated with them.
Hopefully, this was helpful to communicate the need to step back, look at the big picture, and instead of trying to figure out what Google is looking for and play the seo 'game' the easy road to great rankings is to BE that excellent resource when it comes to commercial insurance in the Midwest.
I have worked to increase the rankings and traffic for dozens of websites and I can say that, beyond the shadow of a doubt, success comes much faster (and at lower cost) when you start out with a good foundation. If you would like to get into the specifics of how we can take that lead on Google away from CGI and Madrigal I would love to connect.
Matthew Rupp
Saw Web Marketing
matthew@sawwebmarketing.com
(316) 285-0729