OFFICE MANAGER POSITION

WHO WE ARE
We are essentially the online marketing side of our clients' businesses. We are different from other marketing firms in that we only work with 10 clients at a time, which allows us to give each client the necessary time and attention and provide them with high-quality marketing assistance, and we focus on established, successful service businesses.
Search Engine Optimization is how I got started in the online marketing space, but today we do so much more than that for our clients. Our goal isn't just traffic or rankings. It's the phone ringing, appointments being booked, and customers in the door.
I started this company in 2011. Here's a little bit about how I got started. In December 2016 I rebranded the business and changed the name.
My goal is for my clients to DOMINATE their competitors when it comes to the web.
HOW WE ARE DIFFERENT
Our clients understand the importance of having a strong online presence. They want a smart team of passionate individuals who will give good advice, keep their best interest in mind, and work hard to improve their online presence.
We focus on driving customers to our clients, not on some metric that doesn't mean anything.
We don't do cookie-cutter anything.
This is a team effort, but we do everything we can to NOT leave things on our clients' plates. That's why they are paying for the best—so they don't have to worry about things not moving forward because we are waiting on them to finish something.
We speak in plain English, send reports that make sense, and work hard to be an invaluable part of our clients' teams.
WHAT WE DO
We tackle an incredibly diverse set of tasks.
Some are relatively easy but very high impact.
Some are involved and take a significant amount of experience, while others can be mind-numbingly boring (but still important).
Many are tasks we can do on our own, but some require a lot of input from the client (or their team).
Some require a developer and others a creative writer.
Some take just a few minutes, while others could be part-time jobs in and of themselves.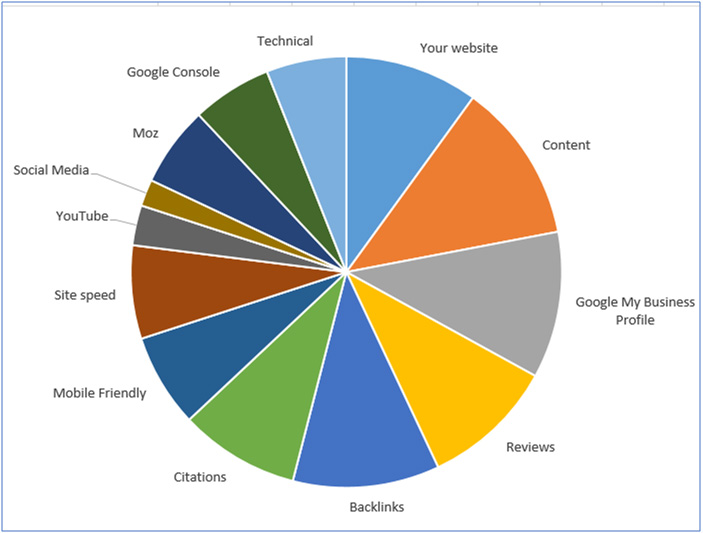 On top of all those tasks, I give speaking engagements and create content and videos for our blog. I work with a stellar group of individuals skilled in the areas of web development, copywriting, and design.
I am currently looking for an experienced and well-organized office manager. This person needs to have stellar time-management skills, maintain excellent communication, and most importantly, be able to prioritize and multitask efficiently.
The office manager's primary task is making sure the work gets done—and that it is completed on time according to schedule. He/she is responsible for determining what is most important and ensuring that it takes priority.
RESPONSIBILITIES:
Handle day-to-day responsibilities of the agency
Coordinate between the team and the clients as needed
Oversee that work promised to clients is documented, assigned an owner, and remains a priority until complete
Periodically attend client meetings with me and take notes
Keep me up-to-date on the progress of all tasks
Follow up with clients about projects we need to complete tasks
Proofread and/or edit text to ensure quality and clarity. This may include correcting grammatical or typographical errors, fixing issues of consistency, or rewording text when applicable.
WORKING WITH MATTHEW:
Have you ever worked with a serial entrepreneur (I've started four companies since I was 22) who is VERY active (some might call it ADHD) in the work they do? I mean one of those people who gets like 18 ideas a DAY for clients and wants to make ALL of them happen RIGHT AWAY? Someone who THRIVES on change and is CONSTANTLY pushing the envelope? Someone who is never happy with "good enough" because we no matter how good something might be, he believes we can ALWAYS do better? That's me.
On one hand, all of this is great when it comes to this dynamic industry where there is so much to learn. But this personality is terrible when it comes to running a smoothly flowing, organized digital marketing agency.
That's where you come in. I need an employee who is intelligent, very organized, not a lion but not a kitty cat, to help keep the trains running on time.
IMPORTANT
Experience working with an entrepreneur who is constantly generating ideas is a big plus.
A positive attitude and outlook is an important quality I look for. I value personal development, setting goals, and working hard to achieve those goals.
I need somebody who doesn't get overwhelmed easily by having a multitude of tasks on their plate every day.
The confidence to make decisions and be honest in communication is vital.
In all things, integrity and a friendly approach are required.
It is important that the person in this position is familiar with or at least willing to learn the practices taught by David Allen in Getting Things Done methodology.
QUALIFICATIONS:
Bachelor degree or certification in marketing or a similar subject
Professional office experience
Must be a self-starter and able to work independent of direct supervision
Must be able to prioritize and oversee a wide variety of tasks
Must be able to work quickly and independently with proven time management and follow through while managing multiple projects and deadlines
Must have excellent communication skills, both written and verbal
Proficient knowledge of Microsoft Word, Excel, and PowerPoint
Ability to explore and learn other software applications
Accuracy and attention to detail
Strong organizational skills
Must be comfortable working on the internet (researching the pros and cons of different tools and finding things online), have an eye for good design, and be familiar with Google tools and popular social media platforms.
CHARACTERISTICS REQUIRED:
Friendly
Dependable
Positive attitude
Outgoing
Persistent
Organized (everything has a place)
Customer focused
PERKS & BENEFITS
I value my employees and the work they do. Nothing would make me happier than to be able to offer health insurance, 401(K) plans, and some of the other perks that come with working for a larger firm. But the truth is we are not quite there yet. For the right person, I can promise I will do everything possible to reward hard work. We are family oriented and offer schedule flexibility as needed as well as the opportunity for growth as our business and digital marketing continue to expand. In time, I am confident I will be able to offer bigger incentives like health insurance, retirement plans, gym membership, and cell phone reimbursement.
ATMOSPHERE
You will have your own office and be expected to keep regular office hours. We share an office with a handful of other folks who are currently designing a new facility opening up out east this fall (com). They are great to work with (and might occasionally try to pull you into a fitness challenge of some sort!).
Having been an entrepreneur for 22 years, I know that happy people are much more productive than unhappy ones. It's important to work hard for our clients and do great work for them, but if we can do that AND have fun in the process, that's a win-win!
COMPENSATION / SCHEDULE
Matthew Rupp Consulting is invested in an industry that is growing by leaps and bounds. As such, I foresee this position as a big step for someone who wants to excel with a new company as it continues to develop and expand.
Compensation will be based on experience and fit, ranging from $15 to $18 per hour and growing to $20 to $24 per hour for the right person.
20–30 hours per week, 10:00 a.m. to 4:00 p.m., Monday through Friday to start, with the potential to turn into a full-time position for committed individuals.
If you are interested in applying, please submit your resume to localseo@matthewrupp.com and include a brief paragraph about what interests you most about this position and why you feel you would be a good fit.
Thanks,
Matthew Rupp