My name is Matthew Rupp and I am the CEO of Matthew Rupp Consulting in Wichita, KS. My team and I specialize in helping local brick and mortar service businesses dominate Google. I love helping companies improve their rankings on Google. It's challenging, it's dynamic, and if we have the right client in the right industry, we can bring them a TREMENDOUS amount of real world benefit.
Cambridge Family Dentistry right here in Wichita is one of the many businesses we've been able to help.
When you search for "dental implants, Wichita KS"

This is what you see: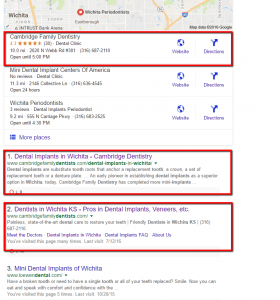 Search Engine Optimization or SEO is the practice of helping a website come up higher in the rankings when somebody searches for something related to your industry. It is a dynamic, constantly evolving industry with a great deal of misconceptions (and nonsense) attached to it. My goal with this article is to communicate in an easy to understand way HOW to achieve great search engine ranking, which in turn will increase website traffic and turn your website into a powerful part of your marketing strategy to get new clients in the door and grow your business.
To take a closer look at achieving better search engine rankings we are going to be focusing on the Lashley Family Dentistry website: https://www.lashleyfamilydentistry.com/
Before we jump in I have to warn you – this is a deep dive. Think 57 pages and 7k words – with lots of images and screenshots so it's not as boring as it sounds! We are going to review the Lashley website, content, and competition with the goal of lining out exactly what needs done to help them dominate the "family dentist" niche in Wichita, KS.
Let's jump in!
 Click the link to jump into a specific chapter.
Section 1: Is SEO worth pursuing?
Section 2: Who is winning online right now?
Section 3: Plan for the Lashley team to upset the status quo and put the web to work for them.
Section 4: Let's make you guys #1 on Google
If you have any questions about a particular section or just want to get right to work addressing all these items feel free to give Matthew a call at (316) 285-0729 or you can send an email here.
Is SEO worth pursuing
Before we take a look at what it would take to help the Lashley team dominate Google (for their niche right here in Wichita) let's get a feel for how worthwhile it is to pursue SEO. What do they have to gain? Of course it's worth it in this day and age when people do practically everything with their phones and Google being the first place people seem to turn for practically everything. Realistically, how much could this practice stand to gain if they ranked much better for a variety of important keywords and had 3-5 times the website traffic they do today?
We are going to look at 3 things to help us figure that out.
What are keywords and why do they matter?
How much search volume is there for those keywords right here in Wichita?
What is the long tail of search and why does it matter?
A keyword is simply a word or string of words that people type into a search engine (Google) when they are searching for something.

Keyword research is the practice of determining what keywords people are using when they search for something related to a certain industry or need they are experiencing. For years this has been the foundation for an SEO campaign simply because it's very common for a business owner to get so close to their business or industry that they just assume (sometimes very strongly) what people are looking for online regarding their industry when in fact it may be something very different.
When I owned my own party rental company and was trying to improve the rankings for that site I regretted having named my business Big Sky Party Rentals. Our biggest competitor was named Moonwalks for Fun. I actually considered renaming the business to include the word "moonwalks". It wasn't until months later that I went back and did keyword research (that I should have started with) and realized that "party rental" and "inflatables" were much more important keywords for ranking.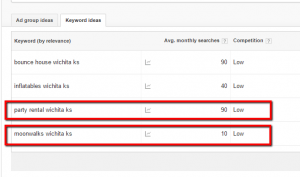 I have worked with dozens of clients and almost without fail the client has ideas of what they think we should try regarding keywords. I have my opinions of what I think is more likely to work. We do the research and almost invariably we are both wrong.
That's why keyword research is so important. What we are looking for is keywords that have enough search volume that ranking for that keyword is worthwhile but not so much competition it will be extremely difficult or time consuming. That, my friends, is the quickest and easiest way to increase your traffic, improve your rankings and bring in warm leads.
Here are just a handful of the keywords people use when searching keywords related to 'Dentist' in Wichita.
| | | | |
| --- | --- | --- | --- |
| 14 | Keyword Ideas | augusta family dentistry | 140 |
| 16 | Keyword Ideas | broadmoor family dentistry | 110 |
| 38 | Keyword Ideas | bull family dentistry | 10 |
| 2 | Keyword Ideas | cambridge family dentistry | 170 |
| 11 | Keyword Ideas | cambridge family dentistry | 320 |
| 34 | Keyword Ideas | dental implants cambridge | 90 |
| 33 | Keyword Ideas | dental implants wichita | 169 |
| 17 | Keyword Ideas | dental implants wichita ks | 90 |
| 3 | Keyword Ideas | dental office wichita | 180 |
| 4 | Keyword Ideas | dentist wichita ks | 520 |
| 29 | Keyword Ideas | dentist dental implants | 20 |
| 29 | Keyword Ideas | dentist dental implants | 20 |
| 8 | Keyword Ideas | dentist office wichita ks | 90 |
| 41 | Seed Keywords | family dentist in wichita ks | 70 |
| 5 | Keyword Ideas | family dentistry wichita ks | 140 |
| 30 | Seed Keywords | general dentistry wichita ks | 60 |
| 4 | Keyword Ideas | family dentist wichita | 260 |
| 13 | Keyword Ideas | maize family dentistry | 40 |
| 14 | Keyword Ideas | children dentist wichita | 261 |
| 8 | Keyword Ideas | northside family dentistry | 480 |
| 10 | Keyword Ideas | oxler family dentistry | 50 |
| 15 | Keyword Ideas | oxler family dentistry wichita | 20 |
| 4 | Keyword Ideas | schneider family dentistry | 170 |
| 12 | Keyword Ideas | waterfront family dentistry | |
| 2 | Keyword Ideas | wichita family dental | 1300 |
| 6 | Keyword Ideas | wichita family dentistry | 40 |
To really help you understand how we can use GOOD keyword research to our advantage we have to understand the power of the "long tail of search". What this means is, regardless of your industry or where you are located, there are keywords that have immense search volume but are very general and have very little intent. For example, terms like "dentist" or "family dentist" are VERY general and could draw searches from anything and everything related to the dentistry field. If we search "dentist Wichita ks" we get 23,333 searches a month. These aren't just potential patients looking for a dentist. These searches could also include temp agencies and potential students looking for a job, vendors looking for dentistry businesses to pitch their products to, IT and web design specialists, X-ray technicians, and even other dentists and their staff checking out other practices.
But if we search "family dentist on north rock road" we get 55 searches a month. This search shows a great deal more intent with a lot less competition. Ranking for this keyword could be accomplished much easier and faster.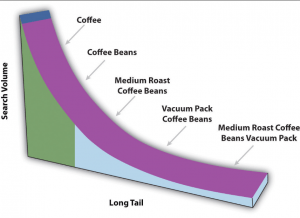 Article I wrote on the power of keyword research –
If you look further down the long tail you see search volume goes down and the keywords become more specific more focused, and they show more INTENT. That's the magic of keyword research. These keywords are much easier to rank for. They also have MUCH less competition – and actual buying intent. This is where a smart SEO starts (and lives).
Let everybody and their dog throw thousands of dollars a month in a fight for "dentist, Wichita KS" (or whatever city you live in). The smart money is in the long tail.
One more incredible fact before we move on. If you add up ALL keywords that are searched, over 70% of all traffic falls into the long tail search category!
With only 25% of the traffic (which is very conservative) from the keywords related to 'family dentistry' I believe there are approximately 800 visits a month that could be secured for the Lashley team without a great deal of time or money.
If 20% of those result in a phone call to their office (160) and 40% of those turned into appointments that would be 64 new appointments a month. Without knowing what percentage of people who call their office actually book an appointment and what percentage of those don't show up these are not much more than good guesses but hopefully its clear there is serious benefit to be had.
Maybe I am being too optimistic with my numbers. I wonder what the value would be of 32 new patients…. A month…
Who Is Winning Online Right Now
I was surprised at how many dentists right here in Wichita are missing a lot of the most basic items that would help them rank better. My guess is most of them have been burned by somebody (or several somebody's) who were either:
A) Selling overnight results.
Or
B) Offering the same cookie cutter results to all their clients (360 Wichita does this)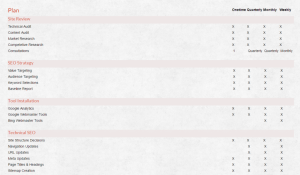 SEO isn't something that can be 'done' like building the same kind of fence for everybody. That might have been good 'enough' 4-5 years ago but Google has updated how they rank websites literally hundreds of times since then – https://moz.com/google-algorithm-change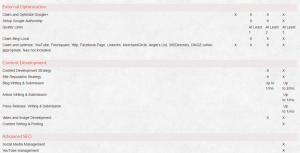 The challenge with SEO is it's all about trust. We need Google to trust you are the BEST possible result based on what their users are searching for. My job is to make it easy for Google to be able to see WHY my clients deserve to be the #1 result and then backing up that promise. Google will not be fooled by quick fixes or the same cookie cutter crap everybody else has.
It does take time, but when you start with a solid foundation and a good plan (like this one) the rewards can be astounding. Today there are so many dentists and business owners in general who are just sick of the barrage of phone calls, visits, trial offers, free this and that, emails and text messages all promising overnight rankings.
With that said, let's take a look at who is kicking butt in Wichita today:
It's helpful to know that roughly 65% of all traffic is going to the first 3 results on the first page. The power of being at the top is literally astounding. Moving up from #3 to #2 can multiply the traffic to your site by 4 times.
'dentist wichita ks'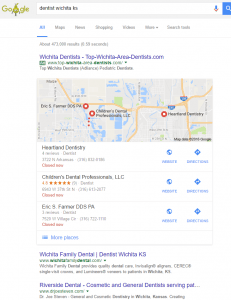 'Family dentist out west Wichita ks'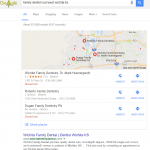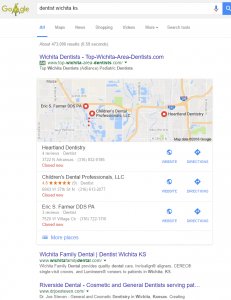 Family dentist west Wichita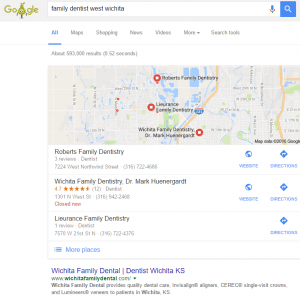 Childrens dentist west Wichita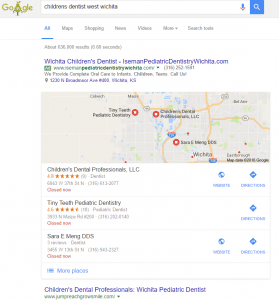 These are the high volume, very competitive keywords and represent hundreds and hundreds of searches a month. Combined with the long tail keywords is a tremendous amount of searches per month related to 'dentist' right here in Wichita.
Plan for the Lashley Team to Upset the Status Quo
and Put the Web to Work for Them
WEBSITE
---
It is astounding to me when I hear about SEO / Internet marketing campaigns that start with anything but the website itself. What is the point of stellar rankings and massive amounts of traffic if you don't have a website that encourages visitors to take action, builds trust, makes visitors feel like they are in the right place and you are somebody they will feel comfortable with. I see this ALL the time and it makes no sense. It is MUCH easier to increase the percentage of visitors that "convert" (take some kind of action) by 20-30% and see measureable results than it is to send enough traffic to a poor converting site and see the same results!
Before we jump into the Lashley website my intention isn't to downplay this website by any stretch of the imagination. The site has a lot of things going for it and nothing I suggest would take much time, effort (or money) to change. This is just my two cents strictly from an SEO perspective of what would help it convert a (much) higher percentage of visitors into actual patients and help it rank better on Google. The great news is this site is built in a platform called WordPress which we recommend to all our clients.
Here is an excellent article about four questions every website should answer as quickly as possible to really be effective –
http://menwithpens.ca/questions-website/
Who are you?
Why should I care?
Can I trust you?
What's next?
With those questions in mind let's run through the Lashley team website as is exists today:
Who are you?
Many writers make the answer to this question the entire focus of their website. They list qualifications, awards, degrees, credentials, and anything they hope will help "sell" their expertise. But people don't buy credentials. They buy what you can do for them.
I absolutely love the images on the homepage. It is always refreshing to see REAL PEOPLE. I beg all my clients to do this and it always makes a big difference. The more you can "humanize" your website the better.



There are good images buried on some of the inner pages I guarantee most people never see – https://www.lashleyfamilydentistry.com/about/facility/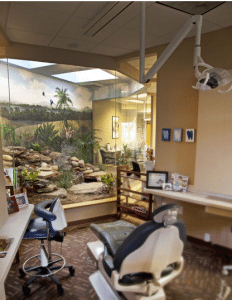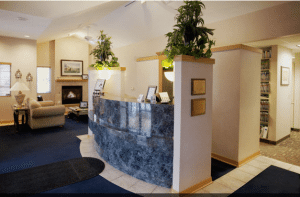 Pictures are so powerful in allowing people to mentally paint a picture. The first half a second people are on your website they make a snap decision of whether the site is worth exploring further. The couple items they see after that initial impression reinforces that yes, this is a site worth spending a bit more time on or, no, they are in the wrong place.
_____________
Another enormous opportunity for the Lashley team is one we really capitalized on for the Cambridge staff out east.
When I give talks on SEO I always ask "what is the most important page of your website?" The consensus is generally the homepage and that's not even close. Almost without fail, by far, the highest viewed page on ALL my clients websites is the ABOUT page. I'm serious. It's usually pretty overwhelming just how popular it is.
We install a small piece of code in all our clients websites that allows us to use a heat tracking tool and see exactly what pages are being viewed, how far visitors scroll down the page, what they are clicking on and much more. To me, at the end of the day it's not about what the client wants or what I think is best when it comes to their website. The important thing to ask is what do visitors to your site find of interest? Give them MORE of that! What do they not care for? Let's move away from that. This accomplishes several things I will touch on later.
The top example is from the Cambridge site and the one below it shows just how popular the ABOUT page is: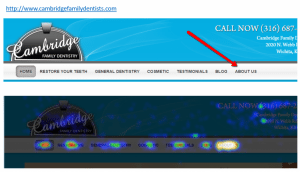 This is an example of another clinic we did work for: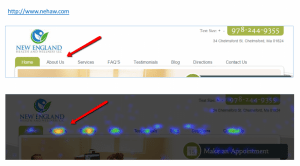 The bottom line is if I am having an exterminator come to my home when I am at work and my wife is home alone, if I am trusting you to work on my truck, to work on my teeth, to put a pool in my backyard, I want to know WHO I am doing business with. Help people see this is something you are passionate about, been doing for a long time, are really good at and even more importantly, put some "heart" into it. This goes so far when it comes to your website. Nothing turns your visitors OFF more than cookie cutter, boilerplate text found below:

We saw how incredibly popular the "about" page was with the Cambridge website so we added a "meet the doctors" page and that drew even more traffic (it was truly amazing). So we decided to also add a 'meet the staff' page and profiled everybody in the office.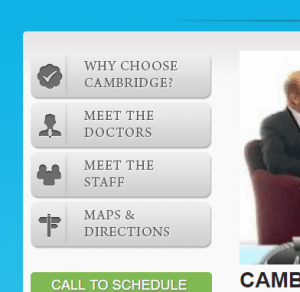 I know Dr Lashley personally. We were both awarded the 40 under 40 in the same year from the Wichita Business Journal, and we are both a part of the Wichita Wagonmasters which has given him the opportunity to serve dozens of non-profits right here in Wichita. He and his wife have gorgeous kids and he is a caring father who is active in sports. This website should show that human side. Let people see the two doctors are real people who are passionate about what they do.
Example from www.cambridgefamilydentists.com/dr-wright-wichita-dentist/Dr. Wright with Cambridge Family Dentistry
Why should I care?


Tell your visitors enough about yourself that they know you're qualified for the job, and then put the bulk of your efforts into showing people that they're dealing with a human being who cares about them, their problems, and wants to help them find a solution.
I feel this is a real opportunity for the Lashley team website. There is something the folks at this practice are proud of. What makes them a better choice than the any number of other dentists on the west side of Wichita, hell, even within 5 miles of their office? This can be very powerful when it comes to ranking high on Google.
Simply ask why?
"Why do you deserve to be the #1 result on Google?"
Seriously. It can be tougher than you think but really putting the time and brain power into intelligently answering this question shows you really understand your patients and what they care about and makes it easier for your website to really connect with them.
Has the office staff been with the business for a long time, work well together, and "click" like a family? Communicate that!
Do they work hard to make their clients feel comfortable, knowing that a significant percentage of their patients are nervous and scared of going to the dentist? Communicate that!
Is the follow up better than other offices? Do they make a personal phone call a day or two after a significant procedure to make sure patients are ok?
Is this office more kid friendly than others? How so? Are parents welcome to come back with the kids? Do you have an Xbox in the lobby with current games or is there simply puzzles with missing pieces and tattered magazines from 6 months ago?
Are the doctors second generation doctors in the dental field who grew up in the industry?
Are they conveniently located close to the highway or a recognizable business in Wichita most people know where is?
Do they pride themselves on being flexible and working with people and getting them in (close) to the last minute and working around kid / work schedules?
Marketing 101 tells us that you can't be everything to everybody. It's not possible to have the best prices, the fastest service, and the best quality. What sets you apart? What are you proud of? Your website should communicate this front and center.
Quick example – http://pattontermiteandpest.com/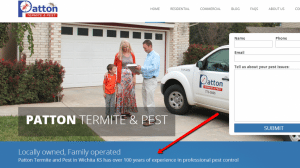 3. Can I trust you?
While reading your website, your potential client is skeptical. Everyone is. And that person is thinking, "Yeah, right. Why should I believe any of this?" Do you answer that question?
If we address the first couple points, who we are and why should people care, it wouldn't be hard to integrate a couple pieces of trust along the way. Without trust your website is worthless.
Have Dr Lashley or Dr. Twietmeyer ever spoken at a conference or industry event?
Have they been honored in any way or recognized by their peers?
Have they written anything for or been featured in an industry publication?
Have they performed a particular procedure more than most dentists in Wichita?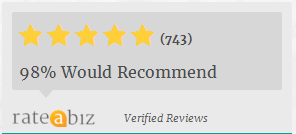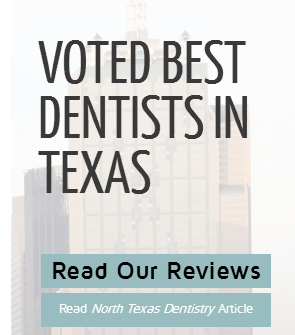 4. What's next?
If your website lacks a clear call to action, you can assume your reader won't take any action at all. They may trust you, like you, and even believe that you can help solve their problem. But don't assume they know what to do next. Take them by the hand, show them the way and leave nothing to chance. Even if the action you want people to take seems obvious to you, point it out anyways.
For Cambridge Family Dentistry here in Wichita we added a box like the one below to the bottom of all the pages of their site.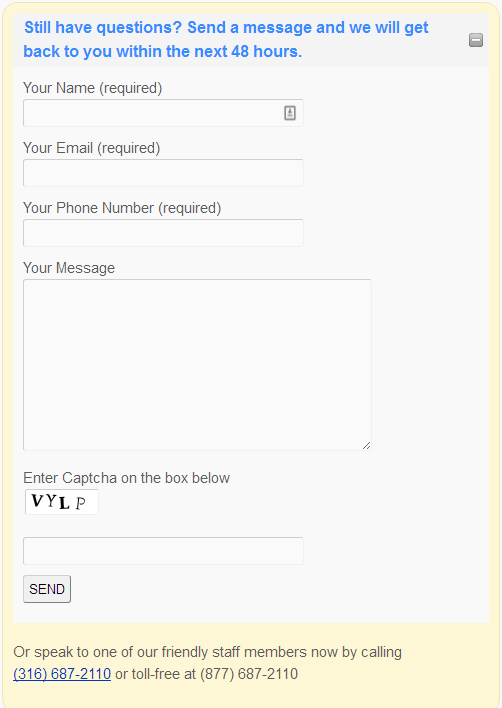 Which is great because this alone results in 7-10 emails to the office a week asking a question or wanting to set up an appointment. This alone provides a steady, reliable way to measure the ROI of their online marketing efforts.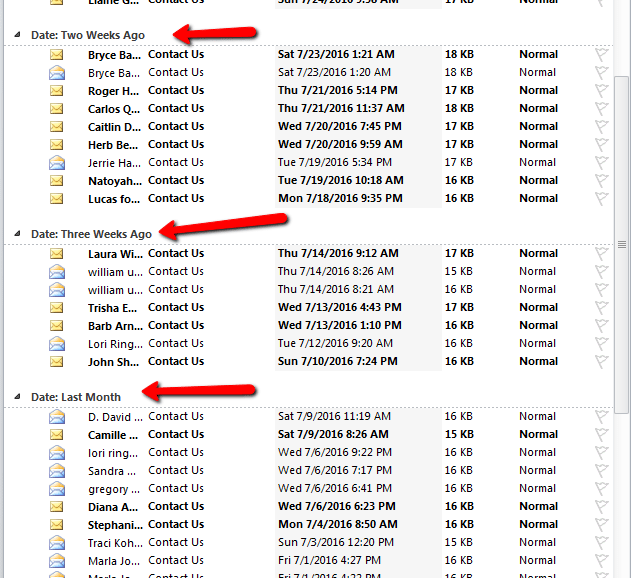 I love what I found on the homepage of this gorgeous website – http://mintdentistrydallas.com/ A nice big "request appointment" box with a Google map right underneath.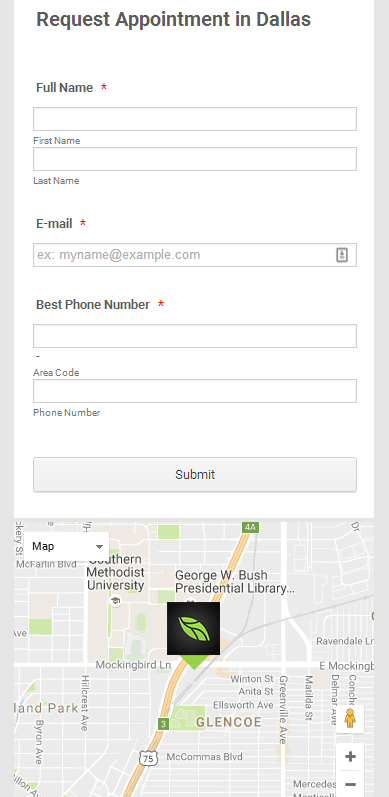 The options are numerous, but the point is make it simple and guide them to take a specific ACTION.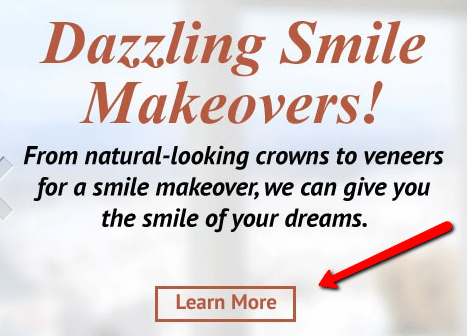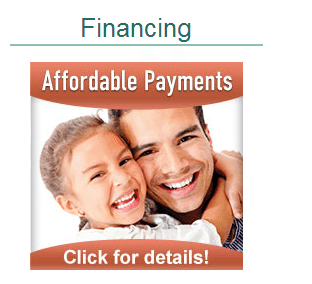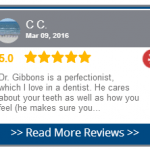 All of these different 'Call To Actions' can be treated as "goals" in Google Analytics which means (for free) you will be able to see not just how many visitors your website is getting but, more importantly, what percentage of them are clicking on the different Calls To Action. Once you have this information, it's not hard to test different offers, text, or colors to tweak your site until you are in the small group of successful business owners who actually KNOW how hard their website is working for their business.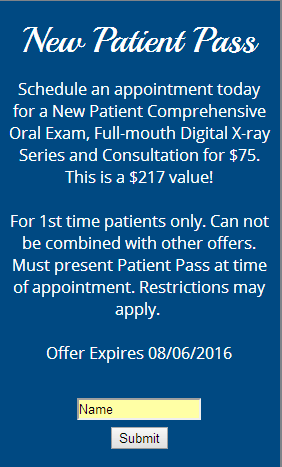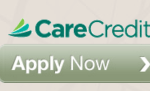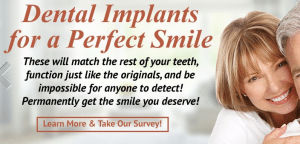 MASSIVE OPPORTUNITY. NEEDS ADDRESSING ASAP.
(Like today)
---
By far the BIGGEST opportunity for any site – and this one is huge – is providing contact information on the website. This is a big issue that needs to be addressed (from an SEO perspective) on the Lashley website to help it rank better.
The TOP of the homepage should have their address and phone number if nothing else to keep visitors from having to search for it. I would also put it at the bottom of the homepage and the bottom of every one of the inner pages. The contact us page very much needs a Google Map added so it's easy for people (and Google) to "see" where this office is and get driving direction quickly and easily.
Since this site is in WordPress this change would take about 20 minutes, tops, and could make a real impact all by itself. Remember ranking high on Google is all about TRUST. It's hard for Google to trust this is the best possible result when it comes to family dentistry if they can't easily see where they are located, what their phone number is, etc.
As SEO continues to evolve and become more personalized by basing target results on where a person is searching from it's absolutely critical Google knows where this practice is actually located.
Back Links
---
Now that we've covered the specific areas in which we can improve the Lashley site, let's discuss some additional ways in which businesses can build great SEO.
Let's start with a little background info – Anything you can click on within a particular website (a line of text, a button, an image, anything really) that takes you to a different website constitutes a "link". That link is treated like a vote of confidence to Google. The more links you have from relevant, authoritative websites the higher you will rank in the search results.
Let's travel back in time for a moment –
When Google first became a company and was being operated by two college kids in that infamous garage back in the day of Lycos and Alta Vista, they decided to rank search engines based on how many other websites were linking back to them. That's it. That's what they did that was so "different" and revolutionary that created the foundation of what Google is today. Actually when the company first started it was briefly named "backrub" and later changed to Google.
Literally all you had to do in the early days of Google was to build 5 other simple websites and link them all to your "main" website which said "family dentists" on it 45 (or 200) different times and that's it, you were the #1 result for that keyword.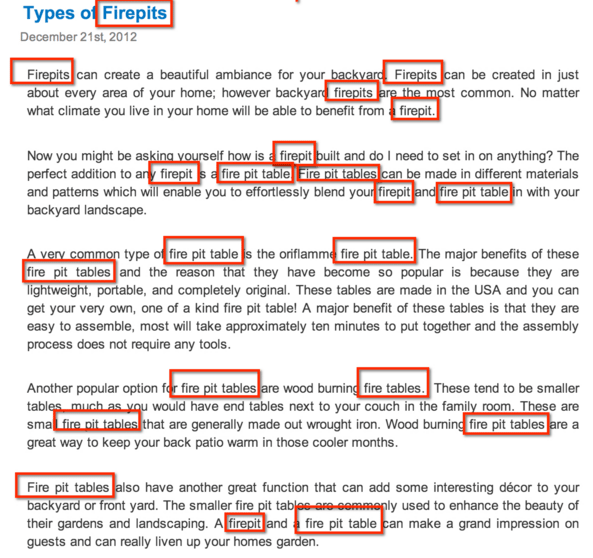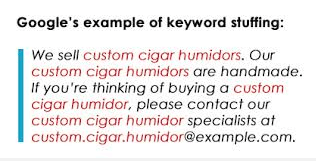 Since then it's been an arms race for Google to stay ahead of their competition, the people trying to game the results and return better and better results. But the entire time BACK LINKS have always been a vital part of how to rank well on Google. Today it's dizzying how many factors they look at, how often they change the ranking of what matters most, but through all these changes its pretty much an undeniable fact that backlinks represent the largest, most important factor in ranking well.
The good news is the other dentists in Wichita that are ranking well for some of the most important keywords honestly don't have very many links.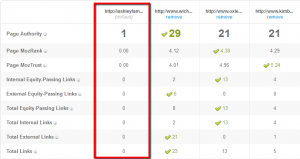 Some of the ways we could help the Lashley team with local, quality links.
Chamber
Chili Cookoff
Wichita Riverfest
Wichita Wingnuts
Wichita Magazine
Posting a job on college job boards
Sponsor a meetup group or animal shelter
What service provider do they work with that would link bank to their site if the doctor offered a great testimonial about their work
Create something useful (link magnet)
We have dozens more that we incorporate for all our clients but this would give them a good start.What we like to do with all our new clients to get things moving quickly is compile a list of all the links that are currently pointing to all the strongest (online) competitors they have (yes, we have mad skills and know how to do this) then go through that sometimes massive list one by one and look for opportunities to secure the same link for our clients, or better yet "earn" or somehow take the link from the other guy and secure it for our client.
Tell Google Who You Are
---
There for a time it was incredibly frustrating and time consuming to keep up with (and update) Google Local, Google Plus, Google Places, Google maps, etc. Back in June 2014 they consolidated all of those and rolled out a platform called Google My Business. This allows every business one place to basically tell Google (for free) who you are, where you are located, what category you are in, your description, picture of your team and location (inside and out), videos and much more all in one place. This is then verified by them and easy to update all from one central location online.
When you search on Google what you typically see first is the "box" with what Google considers "local" results.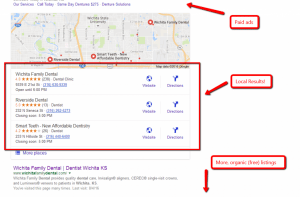 The GMB platform is what is helping them return these results! That's why it's so critical to make sure this platform is filled out as thoroughly as possible, get rid of any duplicate profiles that got pulled in and ensure your profile is verified.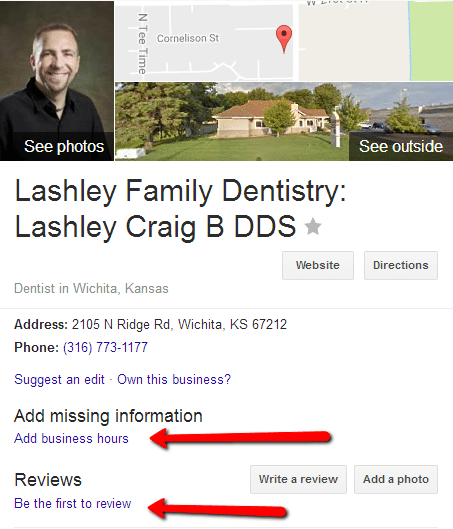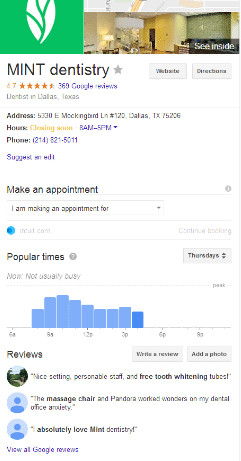 Which is more confidence inspiring? Which would you trust more?
TECHNICAL:
---
The technical side of SEO is a lot like all the parts that go under the hood of a car. Every part is very important, but most people would be bored by the description of how each part works (unless of course you like working on cars!). My point here is that there are a lot of things that go into SEO. Not all of those things are riveting reading material, but they are no less important.
Can Google crawl all the pages of your site? (or any of them)
Are there hundreds of empty pages that were created in the building of your site that need deleted and are ruining your chances of ever ranking well?
Was SEO attempted (possibly years ago) by somebody who used unethical practices? Possibly building hundreds of spammy, worthless links?
Do the images of your website have descriptions? Google can't 'read'. It relies on computers to crawl your site to help Google understand what each page is about. If you have images with no description, Google has no idea what the image is.For example, to Google this image has no description: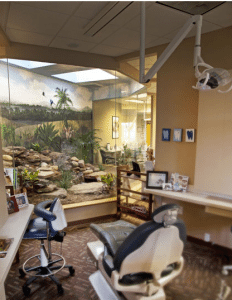 The technical side of SEO is vital because Google looks at these things to determine what your website is about. It's possible to have easy technical, back end fixes that make it literally impossible for Google to crawl and rank your website.
CONTENT:
---
Whether we are building a new site, starting an SEO campaign or creating content I always say the same thing – this is what you need to keep in mind:
Who is your customer?
What do they care about?
How can we help address that need or answer their questions?
This is the filter you need to run everything through when it comes to your website content. If there are words on your website that aren't filling this purpose – remove them today. Seriously. Like we said earlier, ranking well on Google is all about Google trusting your website is the best possible resource for what their users are typing into that search bar. With that in mind there are a few things that might make "strong" pages on your website.
Google doesn't rank websites, they rank PAGES of your website. Pages with one (generic) image and a small amount of (boring) text can be considered thin pages and actually be penalized by Google. You don't want this to happen.
"Strong" pages have a MUCH greater chance of ranking well and contain a variety of useful, original content all centered around ONE subject. By that I mean you can't have one page of your website brag about having the best insurance on boats and cars and trucks. Sometimes it's a matter of just stepping back and asking yourself is there any real chance Google would see these pages as authoritative and strong around "your most important keywords."Let's take the Cambridge website for example. They have SEVEN pages about dental implants which normally I would say is overboard but considering their clientele are older and more likely to take a little time and actually read about the procedure, how costly dental implants are, and what a high percentage of their website visitors visit the site more than once, in this case it works well.
The technical side of SEO is a lot like all the parts that go under the hood.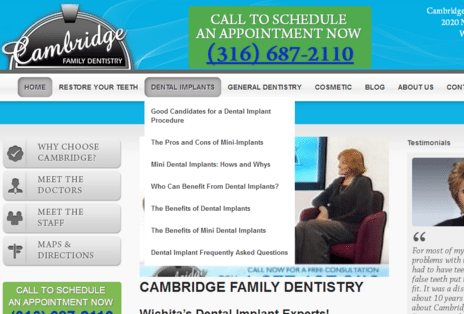 With 7 pages devoted to dental implants it is downright easy for Google to see what this practice specializes in. When you reinforce that with:
An infomercial
Magazine article featuring Dr. Wright
Video testimonials
Images that include before and after
Maps and directions
Doctor and staff bios
A wealth of original content
The results are pretty astounding and speak for themselves.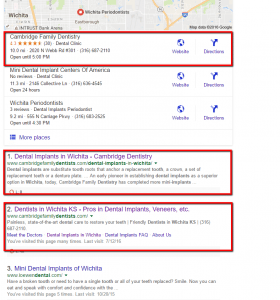 This is a very huge opportunity for the Lashley team website. Almost without fail the task of producing content gets relegated to a "writer" who very often has never met the doctor, stepped foot in the office and who might not have even been given decent notes from an interview with the client.
This is a recipe for mediocre results online.
Some content suggestions for the Lashley team website are:
The FAQ page needs better questions and answers that don't sound like reading the dictionary. It's not a rule that website content HAS to be boring. Plus duplicate content is a huge no, no to Google and can destroy your chances of ever ranking well. All the text on the FAQ page is just one step removed from dozens of other dental websites.
For example this one question on the Lashley FAQ page:
https://www.lashleyfamilydentistry.com/faq/

Does this answer sound a little like these 3 other dental sites?
http://www.callejodental.com/springboro-oh-cosmetic-dentistry.htm

http://bellbrookfamilydentistry.com/services/porcelain-veneers/

http://www.namibiadent.com/veneers.html

Before we move on, take a look at this site real quick- http://www.tedhumedental.com/
Right off the bat the great things I see on this site include:
Call to Action at the top in red
Easy to see address and phone number at the top AND bottom of the site
Map on the homepage
Content that reads like a real person wrote it and conveys these are real people who take pride in what they do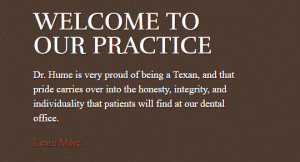 I love this page – http://www.tedhumedental.com/about-our-office.html
That's awesome. We even get to see the doctor is a "real" person who competes in chili competitions – http://www.tedhumedental.com/chili.html
The "team" are all smiling people who have a lot of experience that you can relate to – http://www.tedhumedental.com/meet-the-team.html
A wealth of reviews and "social proof" – http://www.tedhumedental.com/reviews.html
We even have a blog that has actually been updated recently – http://www.tedhumedental.com/blog/
Based on how many cylinders they are firing on, I bet anything this website is a very valuable source of new business for this practice.
Optimized
---
What does it mean to "optimize" a website page? I am going to explain it (hopefully) in a way anybody can understand.
Unfortunately the word "optimize" is thrown around in this industry like it's so voodoo black magic that mere mortals would never understand it.
Truth is, it's real simple and this is it. How easy (or impossible) is it for Google to know what this page is ABOUT? That's it.
I will give you a good example and I bet you $20 you can't find ONE page this well optimized in 20 minutes of searching. I'm serious, this is a massive overlooked opportunity with MOST websites today.
Here is a good example of an optimized page.
www.cambridgefamilydentists.com/dental-implants-in-wichita/ (Client of mine. Of course.)
This is called the Title Tag. If you look at the Starter guide to SEO put out by Google themselves this is the
FIRST item they suggest you address. This tell Google what this page is "about".

Then we move on to the URL or website address. This is typically where the cart comes off the track. Google is
looking for consistency. Consistency builds trust.

Look at the title of the page. So far we are batting 100%. There is zero confusion about what this page is "about". We told Google what it was about and now we are backing it up (and being consistent).

Content is key. If the content is thin or weak it doesn't matter how consistent you were. This content is easy to scan, broken up nicely and naturally mentions the important keywords (and no others) nicely.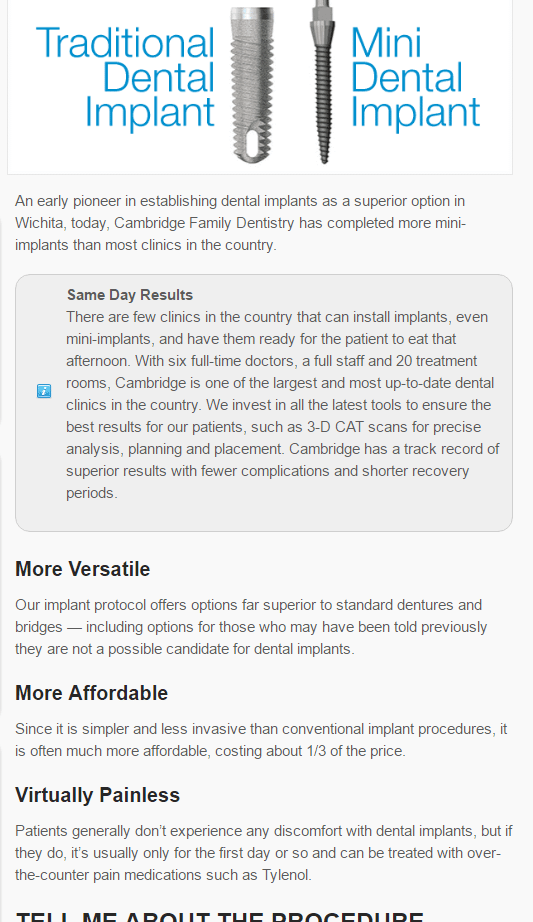 Just for good measure and to drive home what this page is about we have video and written testimonials, and a link to 3M who make the mini implants.

There is ZERO confusion to Google that this page is about dental implants in Wichita, KS. When you build relevant links to this page you have a recipe for dominating Google.
Let's take a look at the Lashley team website (theirs is actually a little better optimized than most I look at):
https://www.lashleyfamilydentistry.com/patient-services/cosmetic-dentistry

The title tag is "Cosmetic Dentistry – Lashley Family Dentistry"
This is confusing to Google for several reasons. The most important keyword should be first which it is but the city or market you are serving should be next. I realize "Family Dentistry" is part of the business name but to somebody who isn't familiar with the practice they might not know that and which is more important? Cosmetic Dentistry or Family Dentistry?

The URL needs to be clean and clear. The more "steps" there are between your homepage and what your visitors are looking for, the more points of friction you create and the less important Google considers it.
This takes us to the navigation of the site itself. Which website do you think is really serious and committed to "cosmetic dentistry"?


If it's important it should be front and center – because this is what you DO. This will help your visitors and Google.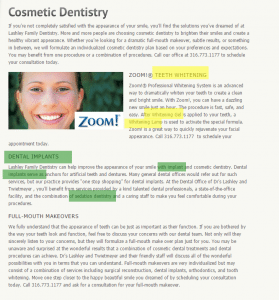 As far as the content of the site itself, it's not BAD, don't get me wrong. But you have to step back and ask yourself if Google's job is to return the BEST POSSIBLE result based on what people are searching for is there any chance in the world this page could be considered the BEST possible result when it comes to "cosmetic dentistry", "dental implants" or "full-mouth makeovers" (the last one I am pretty sure nobody has ever searched for).
Not likely. To add insult to injury there isn't even an address or phone number on the page.
Citations
---
Citations are defined as any mention of your business across the web whether it provides a link back to your site or not. An example might be the online yellow pages, Chamber of Commerce or Yelp to name just a few. Just like links pointing back to your site when it comes to citations the key is quality not quantity.
What search engines are looking for is, of course, consistency. A business that has no listing with a handful of high quality citation sources like Health Grades (for medical related sites), Facebook, Yelp and inconsistent information with a handful of others doesn't do a lot to build trust with Google.
We identified a couple hundred high quality citation sources that would no doubt make a significant impact in the rankings (and traffic) for the Lashley office.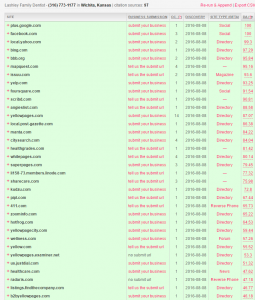 Reviews
---
It's hard to overstate the importance of authentic reviews and the power this holds, especially online. It's a factor in how well your site ranks but it's also vital that your potential visitors see this.
While the practice does have stellar reviews on Health Grades and Facebook the ones that would make the most impact, with Google, has none currently.

We have a variety of ways to help our clients gather reviews.
Mobile
---
Google came right out and said that websites being mobile friendly would be a significant ranking factor. For the first time people are accessing the website from their mobile devices more than from PCs. In this day and age when up to 76% of your website visitors are possibly on their mobile device it is imperative your site is attractive, intuitive and functional on a mobile device.
The Lashley team website does pass the "mobile friendly" test (another free test).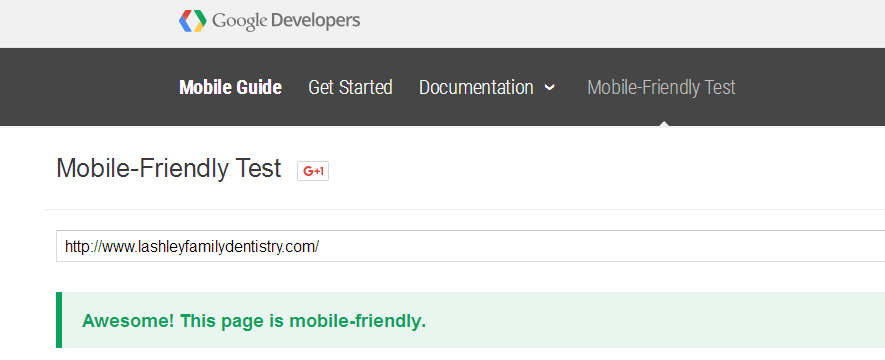 But clearly the functionality and look of their site on a mobile device could be better.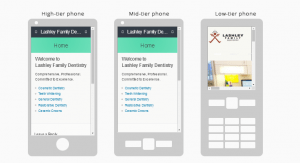 This is an example of a much friendlier mobile site – http://www.mapleridgeortho.ca/
Speed
---
Website speed is another major announcement that the tight lipped giant has declared important. If your website is slow it will hurt your chances of ranking well.
It makes sense if you think about it. Google made somewhere in the range of 60 billion dollars last year. If I was making 60 billion dollars and under the kind of pressure they are to continue to grow and my 'customers' were having a bad experience because some websites weren't mobile friendly or loading slowly, I guarantee those wouldn't be the first sites returned. I think that pretty much sums up what is happening. If somebody visits your site and has a bad experience it didn't just make you look bad, it very well left a bad taste in that persons mouth about their experience with Google.
These are easy, low cost fixes in WordPress which the Lashley team website is built in!. Actually these are the kind of knuckle headed fixes I see companies being charged $1,000 – $3,000 for all the time when I know for a fact it took 30 minutes or an hour to correct some of these items. Drives me crazy.
The Lashley website is relatively simple with just a handful of pages and not a lot of large images or moving parts. There is no excuse for it to load this slowly.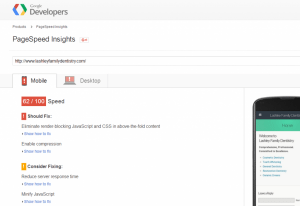 Free test at this link – https://developers.google.com/speed/pagespeed/insights/
CLOSE
I have seen first-hand what a huge difference a strong online presence can make to the bottom line of a service business that serves their local area.
The opportunities for the Lashley Team are truly tremendous and there is so much low hanging fruit it wouldn't be hard to start producing measurable results. If you have any questions about a particular section or would like to discuss how my team and I can help make all this a reality just give me a shout at your convenience.
Matthew Rupp
Matthew Rupp Consulting
O – 285-0729
M – 312-8181
Little about how I get started in this business – https://matthewrupp.com/about/
Some of my clients here in Wichita – https://matthewrupp.com/what-clients-are-saying/
I have given a number of very well received Local SEO presentations – https://matthewrupp.com/speaking/