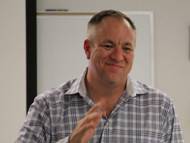 My name is Matthew Rupp, and I have helped dozens of local businesses in Wichita increase their website traffic and improve their rankings on Google.
This case study will line out exactly how to do the same thing and take that advantage away from Vision, A Best, Airco, Worthmann, Air Assurance, and Abes. (If one of these companies is yours, this case study will show you how to make the MOST of the advantage you already have)!
Being among the top three on Google is like being the only HVAC company with a huge ad and multiple listings in the Yellow Pages 10 years ago. You win. Hands down.
I know how true this is because I was once in your shoes.
In 2011, I owned Big Sky Party Rentals. After hiring several companies to help with increasing my ranking on Google—and becoming increasingly frustrated with the results—I set out to teach myself how to accomplish this. It took me almost a year, but I got my business to #1 on Google for 64 different keywords and on the first page of Google for a total of 119 keywords. You can check out my entire story (it's pretty cool) here.
I then turned my frustration into a new business. I helped dozens of service businesses see similar results with their online presence and published the "Massive Guide to Ranking in the Age of Google." I've also given talks to several thousand business owners and created a wealth of content around how to dominate the first page of Google.





After helping to produce stellar results in ten different industries, in late 2018, my team and I decided to focus exclusively on HVAC companies. Our two biggest clients in our hometown of Wichita, KS. are HVAC companies, and we just loved this kind of work, as well as the results we have produced for them!


The digital marketing space is a competitive, crowded field that unfortunately has its share of those with questionable abilities (and sometimes ethics), so my team and I decided to rise above the "noise" and do something different.
Our goal is to work with just one HVAC company in the Tulsa, OK. area.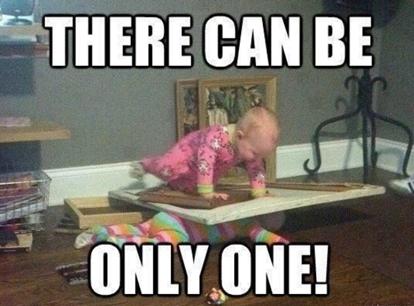 Over the next couple of weeks, our goal is to bombard ALL the companies we've featured in this case study with comparisons, helpful videos, guides, and resources. Eventually, we hope that one company that believes we're a great fit raises their hand for a meeting. Then the barrage of good stuff stops, and we dig deep and put all this to work for that ONE company.
If you already know that you need help with Google, feel free to drop me an email or schedule a time to chat. Otherwise, enjoy the case study!
We compared (pretty much) ALL the HVAC companies in the Tulsa area in eight different areas that are critical to ranking well on Google.
Polar Bear
Dale & Lee's
Superior
Air Comfort

Triad
Custom
A Best
Air Assurance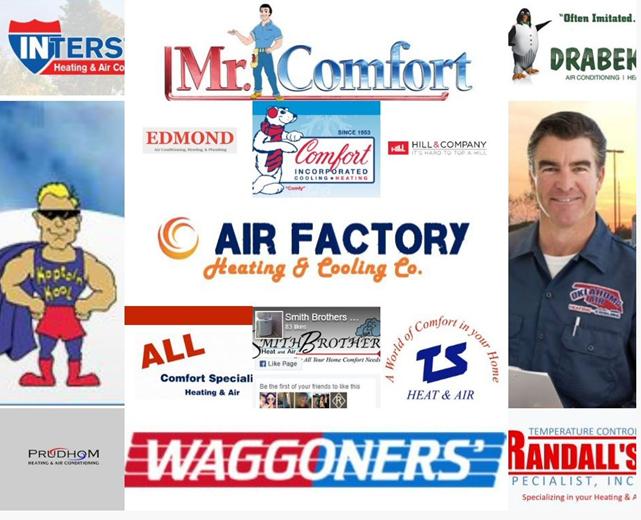 We didn't compare ALL the HVAC companies—just the ones that came up on the first 5-6 pages of Google when we searched for "hvac companies, Tulsa." We realize there is a big disconnect between who the "big boys" are when it comes to real life and how things look online. But we also know this: If you take the current landscape of how everybody compares when it comes to Google and fast forward five years, you will see a real shift in who the leaders are in your market.
Just as how you once wouldn't have dreamed of not including your business in the Yellow Pages, soon, your internet presence will be just as vitally important.
Any company that performs well without caring much about Google (and they do exist) are simply coasting on the momentum of the past.
---
I have a question for you.
When you search for anything on Google, what do you expect?

My guess is that you expect the best possible result based on what words you typed into Google.
How does Google know which website to show first?
Here's the easy answer: TRUST.
Trust is truly the name of the game, and just like in real life, it must be earned. It's not just handed out. We need to build trust in certain areas, and often—and just as importantly—we need to get rid of whatever hurts that trust.
Let's say that somebody searches for "my AC is blowing warm air." If Google can trust that YOUR company is the absolute BEST possible resource for that search—you win. It's really that simple.
Let's get to the good stuff…
---
We are grading everyone in the following areas:
---


WEBSITE
Of course, your website is key in putting your online presence to work. Why dominate the first page of Google and generate thousands of visits a month if only a small percentage of those visits are actually picking up the phone!
To us, your website is a tool. It should be WORKING for your business, 24 hours a day. It needs to lead visitors to contacting you.
There are seven key items that every website must have:
DESIGN – Does it flow? Does the layout make effective use of white space without being too cluttered or busy, and is it easy-to-scan?
VIDEO – Having at least one video on your website can be incredibly powerful. Video tells your story and builds trust on an entirely new level compared to text. They also keep people on your site longer which increases the chance they call.
ABOUT – It's hard to overstate the importance of telling your story by showing "real" photos of real people who care about their customers and have a passion for what they do. Photos of your team, of the business owner, when the business started and by whom—that's the good stuff!
TRUST – Trust is essentially the name of the game. Everything you do should be building trust when it comes to your website. That's the whole point. Without trust, they don't pick up the phone and call you.
Name, address, phone (N.A.P.) – Stating your business name, address, and phone number clearly on every page of your website can make the difference between Google knowing who you are, what you do, and where you are located—and being almost invisible!
GOOGLE MAP –

Only Triad, Superior, Dale & Lees and Polar Bear (4 out of 12 companies in the Tulsa area) have a Google map on their homepage

. When you realize that results are often ranked by how far away a business is from the search location, you realize how critical this can be.
This is a huge opportunity for most of the HVAC companies in the Tulsa area!
CALL TO ACTION – Often, offering a "simpler" action that visitors to your website can take besides picking up the phone and calling your office can result in turning a meaningless click into a real customer. Is there something of value you could provide for free? You could also invite them to "ask a question" with a simple chat box.
It should be the goal of every HVAC company in Tulsa to knock as many of these items out of the ballpark as possible.
Here's how they're doing:
---
WEBSITE DESIGN
Who's doing it best? Here are some of the real leaders when it comes to website design for the HVAC websites in the Tulsa area:
Quality
Polar Bear
Dale & Lee
A Best Air & Heat
Quality Heating & Cooling is crushing it with their website! There is LOTS to like!
Personal, "real" photos galore
Branded company shirts
Company vehicles
Company "mascot"
Family photos
Lots of trust signals!
Coupons!
Testimonials
Reviews!
Online booking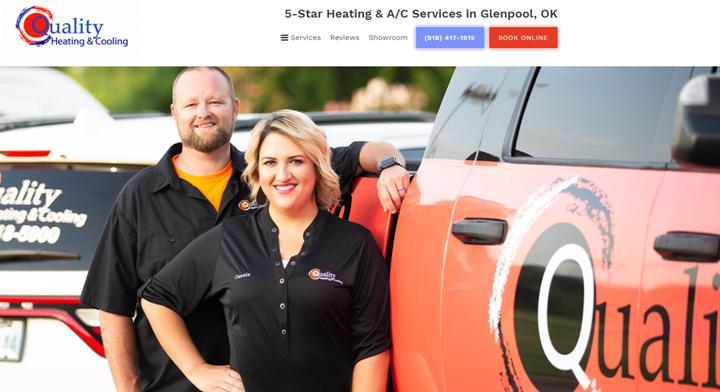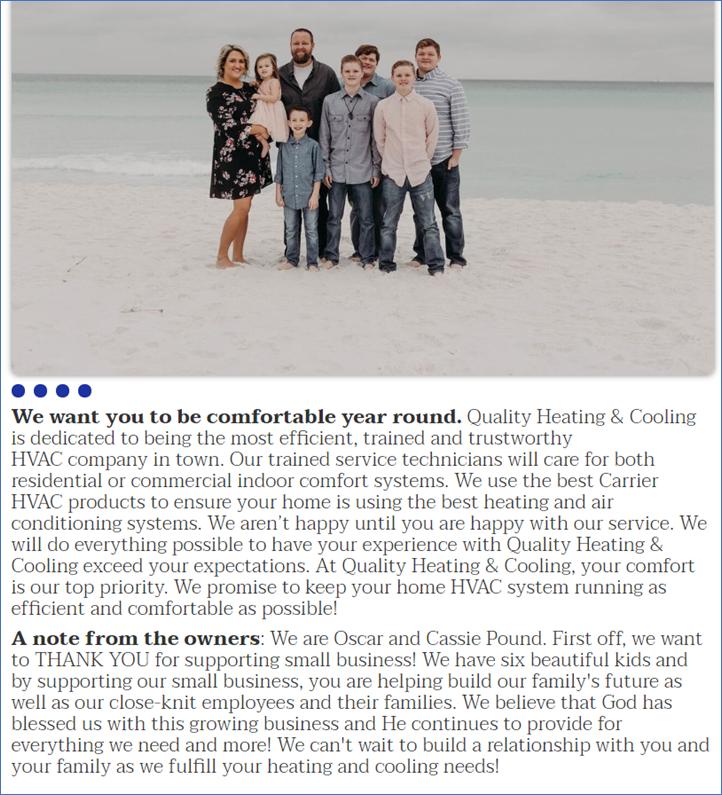 A Best Air & Heat Inc. also has a lot going for them from a design perspective!
Personal touches abound
Real photos
Company shirts and vehicles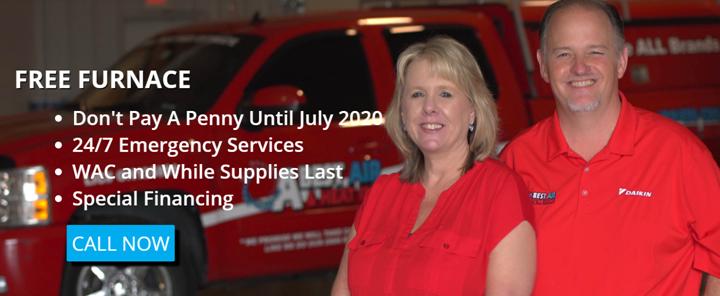 Its always refreshing to find some creativity, and Polar Bears is bringing that for sure!
Great use of colors
Excellent logo
Clever name
Numerous calls to action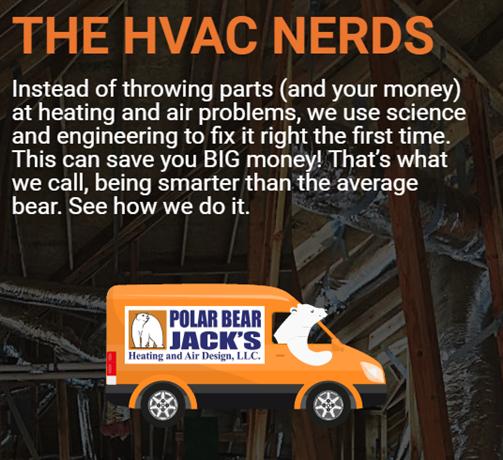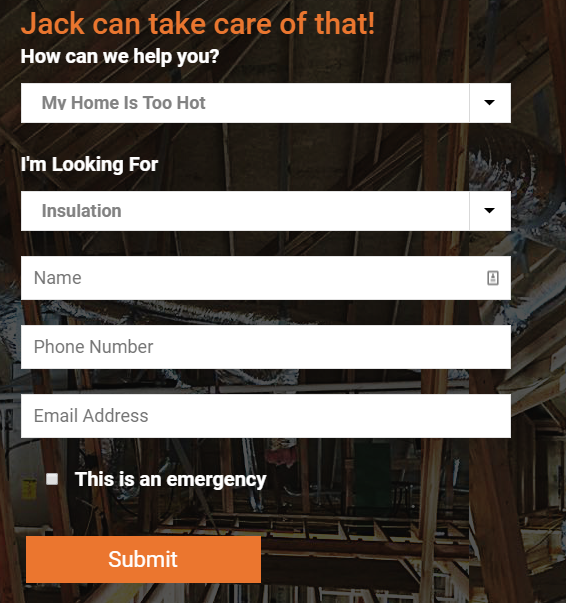 Personality, heart, and authenticity is invaluable when it comes to a website that builds trust and leads visitors to picking up the phone.
What you DON'T want is impersonal. Sterile.
https://superiorairservices.com/
https://www.davcomechanical.com/
---
WEBSITE VIDEOS
Videos are an invaluable way to tell your company's story and explain your services. Some of the HVAC websites in Tulsa who are superheroes in this area include:
A Best
Custom
Polar Bear
Harp
I have probably seen videos on 500 HVAC websites, the video on this page is easily one of my favorites – http://polarbearjacks.com/
It doesn't necessarily tell their story or WHY they are the best company to call, but it certainly gets points for being interesting and clever!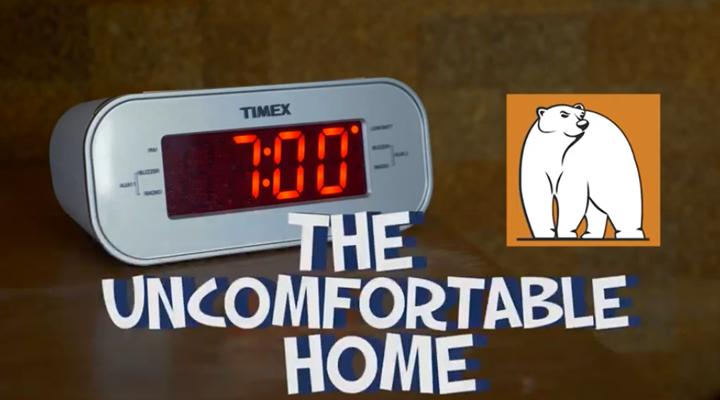 A Best has a video with A LOT of good stuff packed into TWENTY SECONDS – https://abestair.com/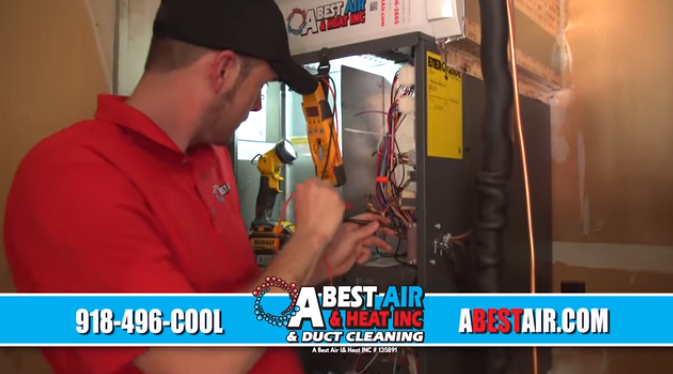 Not bad. To the point. – https://customservices-inc.com/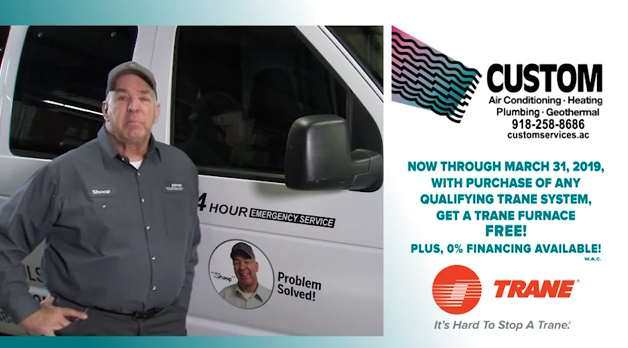 A little cheesy but not bad – http://getharp.com/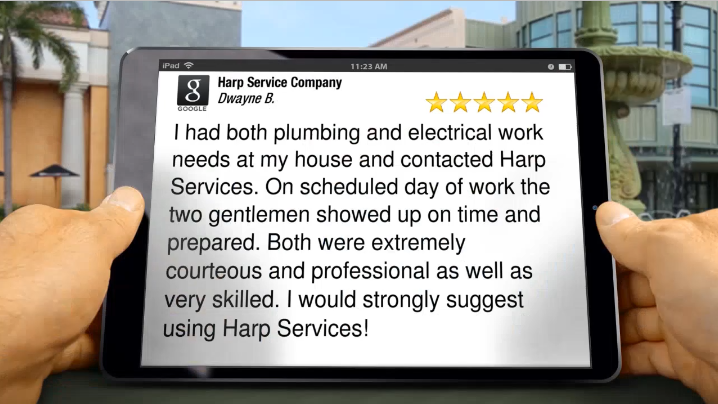 ---
THE ABOUT PAGE
It might surprise you to learn that this is the most important page on your website.
In fact, the About page is the HIGHEST viewed page for every service business we have worked with!
A good About page does so many things for both your visitors and Google:
By highlighting your team and where they went to school, or what they are interested in, you can make a connection to the community.
You can mention any causes that your company is involved with or gives to.
Most of all, though, your About page tells a story and helps people who visit your site feel like your business is full of real, relatable people who can be trusted to solve any problems they might have.
Superheroes in this category!
Polar Bear
Air Assurance
A Best Heat & Air
I love, love, love the video on the Polar Bear About page! http://polarbearjacks.com/we-believe/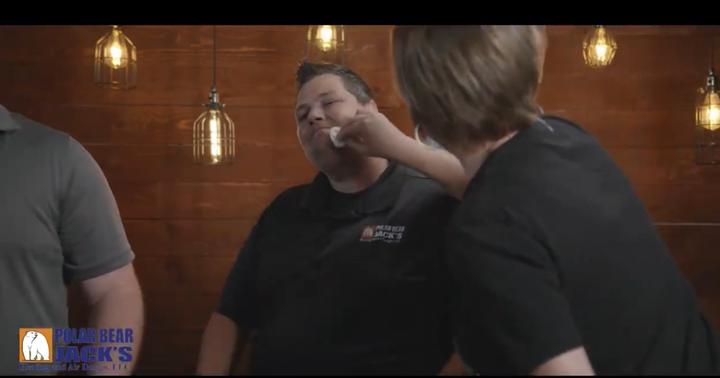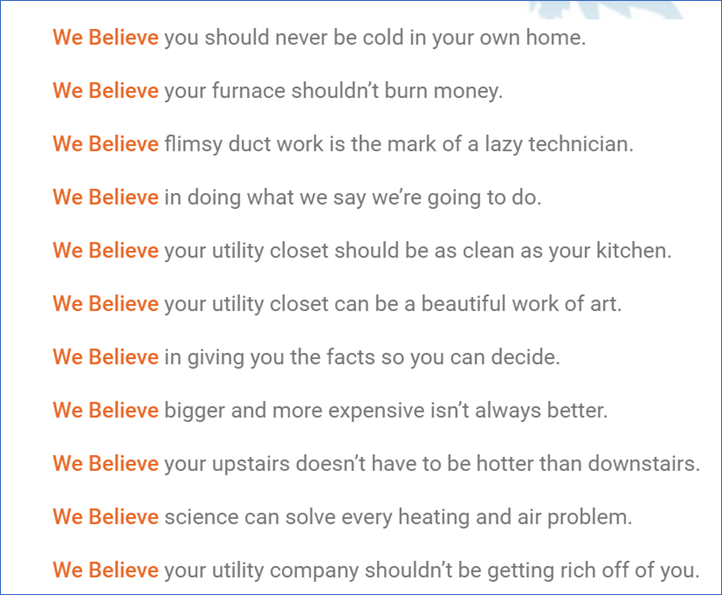 Air Assurance is knocking it out of the PARK with their About page! It has fantastic use of images, including photos of their team with bios, vision & mission, community involvement, and awards and recognition. https://www.airassurance.com/awards-and-recognition-1/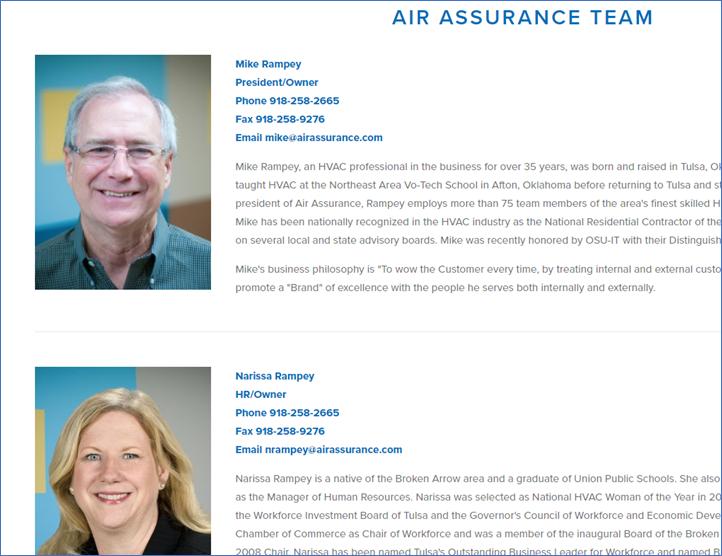 WOW. The about page for A Best Air & Heat is fantastic
Team photos
More than one generation?
20 years of experience
Treats you like family
Superb video
Quality vs. quantity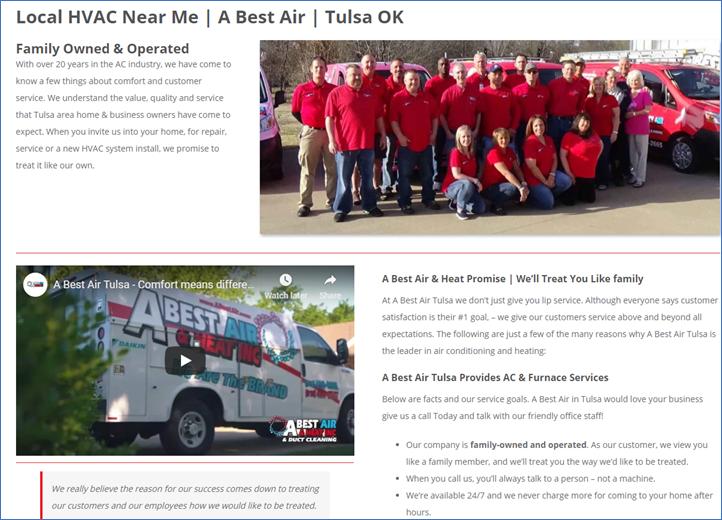 Another example worth checking out is Anthony Plumbing Heating Cooling in Kansas City. They are CRUSHING it when it comes to personality, being authentic, and telling their story – https://www.anthonyphc.com/our-history/
News & community
Awesome monthly giveaway
Referral rewards program
Comfort zone magazines
"How you do it Thursdays" on Facebook Live
Career fair
Guys night out
Teaching Tuesday – learn like a pro
10 different career pages!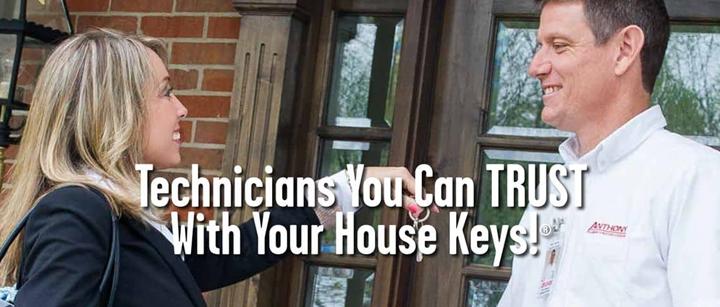 Testimonials – https://www.anthonyphc.com/anthony-customer-reviews/
Customer voice recording and over 50 reviews in text.
News & Community – https://www.anthonyphc.com/newsletter/
Over two dozen stories with 21 more videos!
Monthly giveaway – https://www.anthonyphc.com/anthonys-awesome-monthly-giveaway/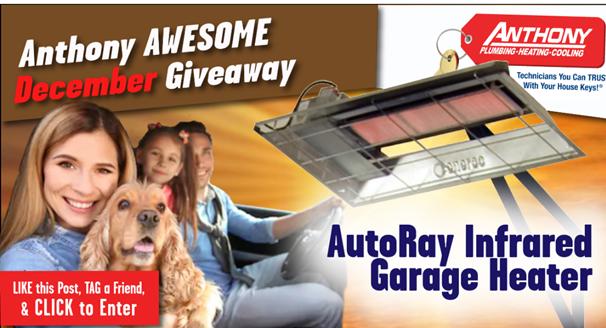 Referral programs – https://www.anthonyphc.com/big-mouth-referral-rewards-program/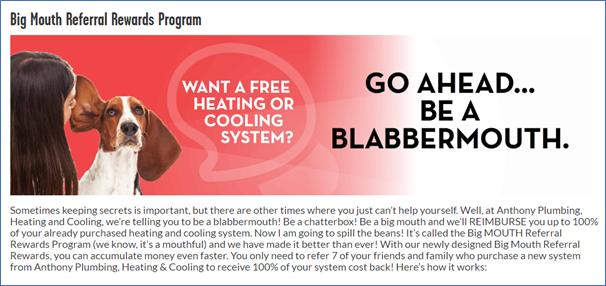 Girls night out – https://www.anthonyphc.com/girls-night-out/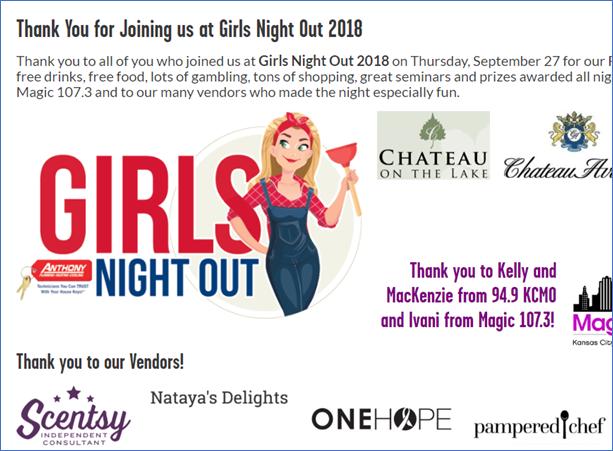 Teaching Tuesday – https://www.anthonyphc.com/teaching-tuesdays/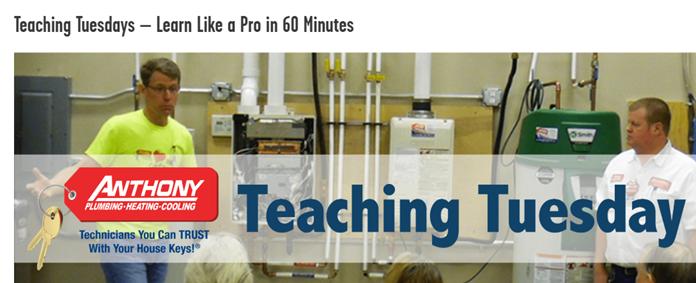 I guarantee that this is helping them to show up in hundreds of local results in the Kansas City area.
---
TRUST
Your website needs to assure everyone who visits it that they can trust your company.
Superheroes in this category!
Air Assurance
Quality
Polar Bear
Air Comfort
It's going to be pretty tough to beat this example of TRUST – https://www.airassurance.com/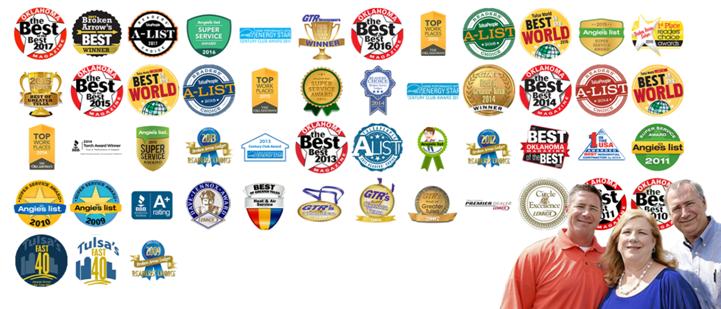 Of course, any industry associations, safety, compliance, or service organizations that you can be a part of (cheaply) are worth their weight in gold when it comes to trust, especially if they provide you with a badge to show off on your site!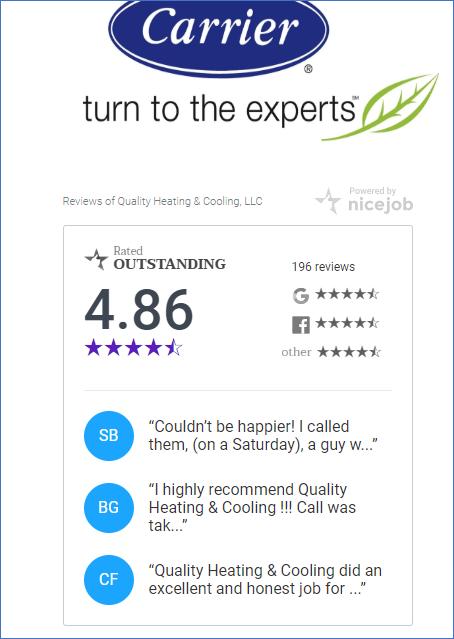 Let me ask you this: which reviews do you find more credible?
These?


Or these reviews from my site?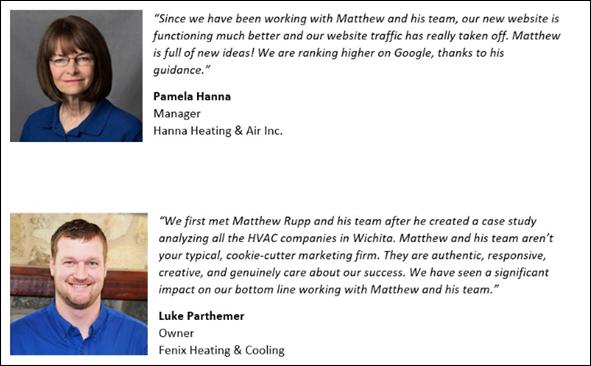 Featuring a photo of a "real" person, their title, and a link to their website gives so much more credibility.
After looking at thousands of HVAC websites, one of my favorite examples of TRUST came from MVP, an HVAC company in the Kansas City area. – https://www.mvpelectric.com/about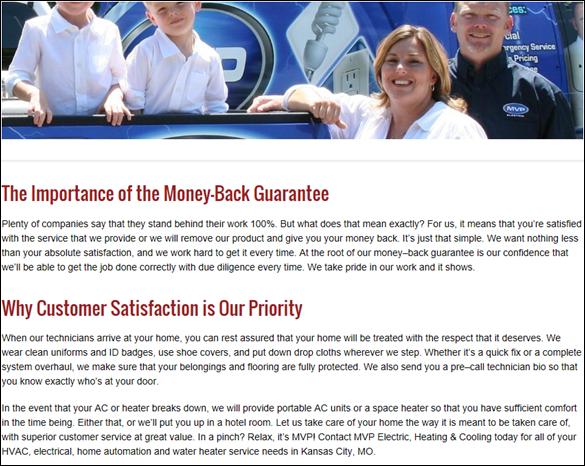 What better way to build trust than to show a picture of your family and coming right out and saying, "If you aren't satisfied, we will remove our product and give your money back."
I fully understand why more business owners don't make blanket statements like this. There is a (very) small percentage of the population that, if given a chance, will do whatever they can to "beat the system" and try and get something for free. I get it. But as somebody who has built several service businesses over the last 25 years, I also know there is tremendous value in SHOWING how much you believe in your team, your service, and your genuine desire to do the right thing. I admire how MVP is doing this!
———-
The good news is that, while it may seem like an intimidating list of "work," you don't have to be an "A" student to win this game, you just have to be better than the other guys.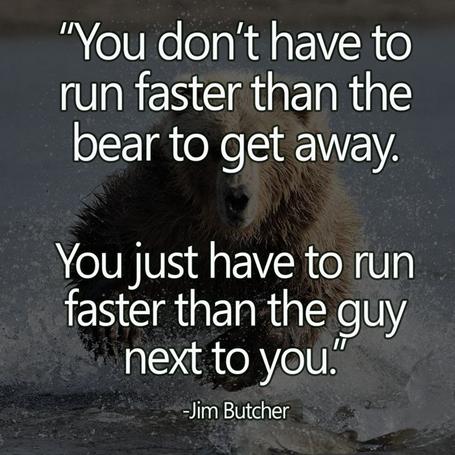 ---
N.A.P. & MAP
Having two things on your website, an accurate business name, address, and phone number (or NAP) and an embedded Google Map, can make a tremendous impact.
In looking at a dozen HVAC websites in Tulsa, only four of them have a Google Map on their homepage.
All the websites we reviewed in the Tulsa area, except Harp, have their address on their website.
This is a huge opportunity for most of the HVAC companies in the Tulsa area!
I get it. Even if you have a fancy showroom, many people aren't too interested in visiting their local HVAC company, even if their AC unit just broke down, but having these things included on your website is still critical. It all goes back to Google trusting that you are who you say you are and that you deserve to be #1. They'll know that you're a legitimate business, and the map will show your location.
Superheroes in this category!
Triad
Dale & Lee
Polar Bear
Superior
https://www.triadserviceco.com/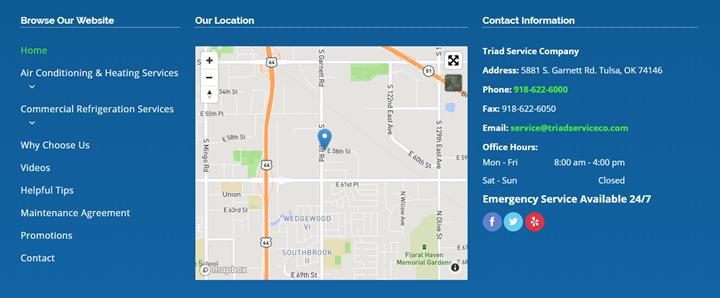 https://www.daleandleesservice.com/

https://superiorairservices.com/

---
CALL TO ACTION
An effective "Call to Action" will give visitors to your website something they can "do" (click on) that we can then MEASURE to see the quality of the visits to your website!
Superheroes in this category!
Air Assurance
Polar Bear
DaVco
Quality
This is a SUPERB call to action. The only thing it's missing is something to CLICK to learn more. That would give DaVco the ability to see how effective this offer is! https://www.davcomechanical.com/

I bet, over the next few years, the ability to pick services and actually BOOK an actual appointment online becomes mainstream! Bravo to Quality Heating & Cooling for taking this step – https://quality-hc.com/

If you click "book online," it gives you the ability to view services with complete details. It also allows you to pick times, and it confirms every step of the process. I love it!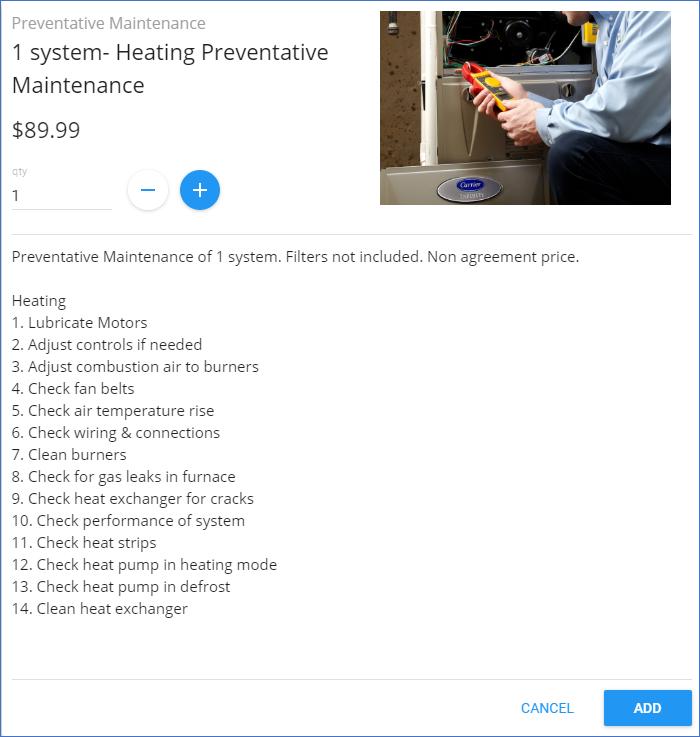 Here's another interactive tool that customers can use after hours, on the weekend, or when its convenient for them! Wonderful idea. I know from experience that tools like this can be work horses for a service business. http://polarbearjacks.com/second-opinion/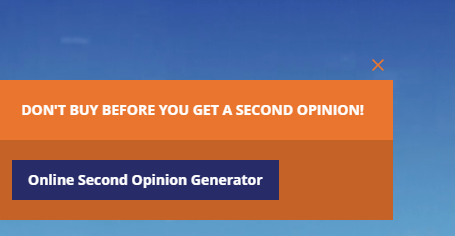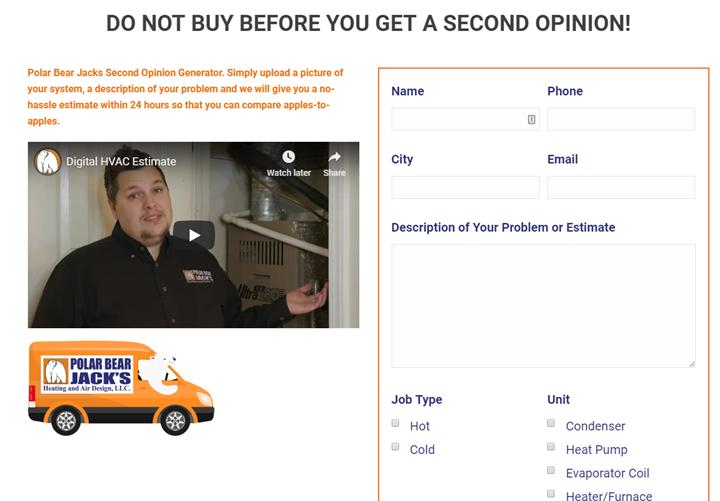 One of my favorite Calls to Action that every service website should have is a "click to chat." Air Assurance has an excellent example of this on their website – https://www.airassurance.com/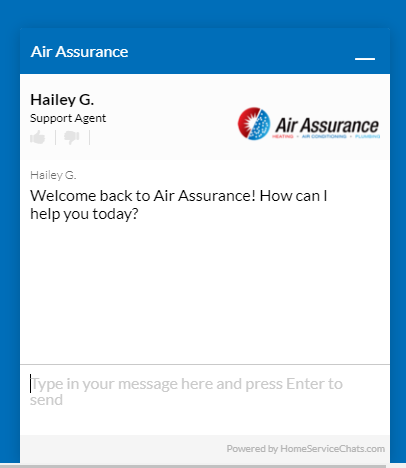 Having a text chat makes sense. Who doesn't text nowadays? It's not as "scary" as calling somebody who could be a pushy salesperson. Visitors don't find text boxes threatening—they are in control. Sure, they may have called you anyway, but they may have just as easily moved onto another site that does have a chat box.
I can speak from experience. This is the one on my site https://matthewrupp.com/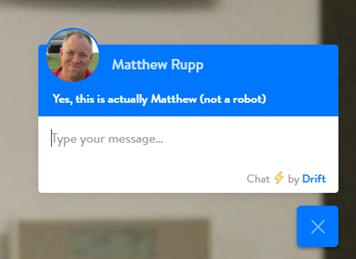 Just today, I received a chat on my phone from my website.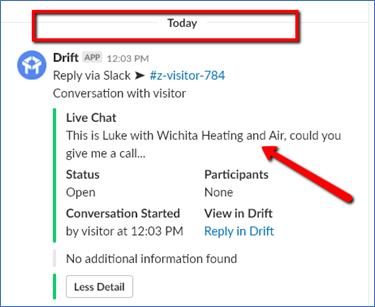 Good chat tools can tell you if that person has been to your site before, how long they have been on your site, and what page they were on when they started the chat.

---


CONTENT
Content is ANYTHING your company puts out on your website, your Google My Business profile, Social Media platforms, or anywhere else on the web.
This is anything from
A series of "ask me anything" interviews with the owner of the company
A blog post about new technologies in the HVAC industry
A helpful blog post about Wi-Fi thermostats and how they could affect their warranty
The text on the pages of your website about what services your company offers
A video testimonial of a job you completed just yesterday that you are particularly proud of
A testimonial or review that a customer left about your technician and how he went above and beyond
You name it.
Of all the sections, there is no way to overstate the importance of this one. This is the keys to the kingdom for making your phone ring like crazy!
Where do you imagine most of your customers start their journey when they have a problem and turn to Google?
A) Do they search for what will help solve THEIR problem?
OR
B) Do they jump right to the company that you can PAY to solve a problem?
If you are like most people, you start with ways to immediately solve your problem yourself.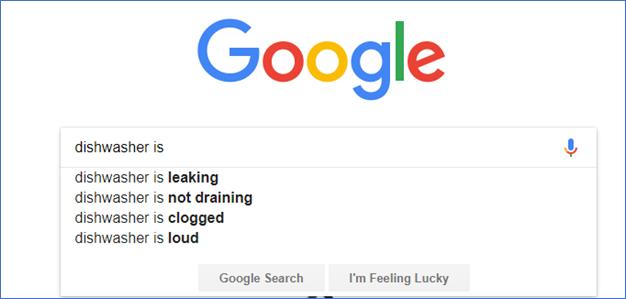 Little closer to home for you guys: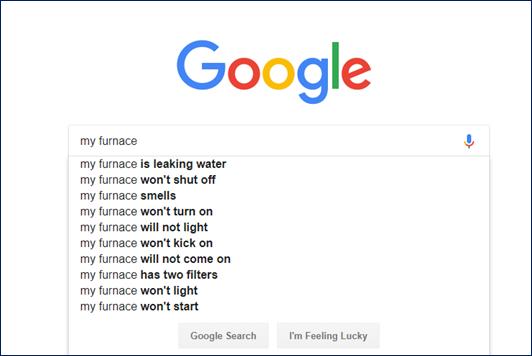 95% of search results aren't people looking for someone to pay to fix their problem—it's someone looking for solutions that they can do themselves.
A trick. A shortcut. A way to save money. A way to NOT have to spend money.
YOUR job with your website's content should be to provide visitors with valuable knowledge for the small things. By doing this, you'll be building trust with them, and—when they need a big thing done—they'll come to you.
I have been to dozens of meetups, conferences, conventions, presentations, and read thousands of articles, case studies, and blog posts—and the BEST piece of advice I ever heard when it comes to ranking well on Google is this:
Answer the Damn Question.
Ask yourself these questions:
Who is my customer?
What is their pain point?
How can I help them with that?
Then, if you find ways to be provide valuable and helpful website content (on a consistent basis), the more keywords you will rank for, the more your website traffic will rise, and the more phone calls you will receive. It's really that simple. (That's what we do for our clients).
This is an ENORMOUS opportunity waiting to be capitalized by every HVAC company in Tulsa!
Not only that, Google came out with an update that actually penalize websites with "thin" content (text with nothing original or useful). Having a website full of this can be very destructive to your rankings (and traffic).
So, how do you go about creating useful content? I want to share with you a very powerful concept that is KEY to this, and it will help you dominate your market.
It's called the "Long Tail of Search."
The long tail of search is simple and applies to every industry. Feel free to Google the subject. You will find over 12 million articles about it.

If you do conduct a search, you will see thousands of images very similar to this one.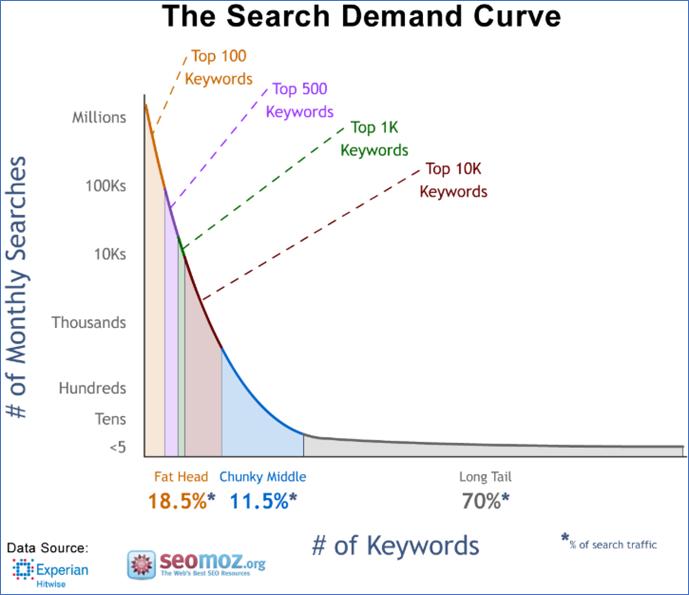 Here is what the long tail of search means (trust me, you will find this interesting).
The word "electrician" in Wichita, for example, has thousands of searches a month; it's called a "HEAD" keyword. It has massive search volume but has very little (or no) INTENT.
Think about all the different types of folks searching for "electrician" In your city.
It's everything from people who work for electricians and want to know who might be hiring, to every distributor and manufacturer rep looking to see who the companies are in a particular market. It's industry associations looking for members, the membership folks at your local chamber of commerce, college kids doing research on the market, industry, or region. It's temp agencies with people they are trying to find jobs for, marketing and advertising agencies looking for lists of companies to harass, local companies making lists of companies to ask for donations… the list goes on for days.
Worse yet, when I Google "electrician" in Wichita, KS. This is what I see: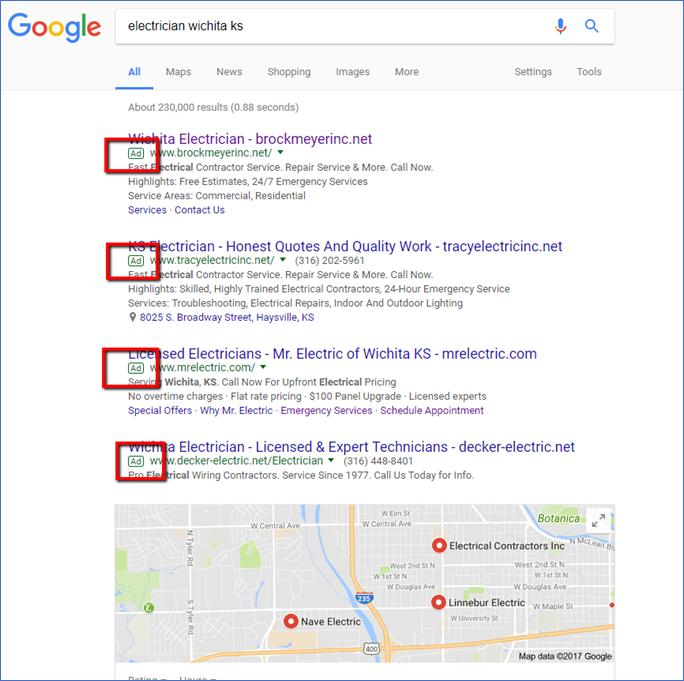 An entire row of paid ads.
This brings us to the long tail of search.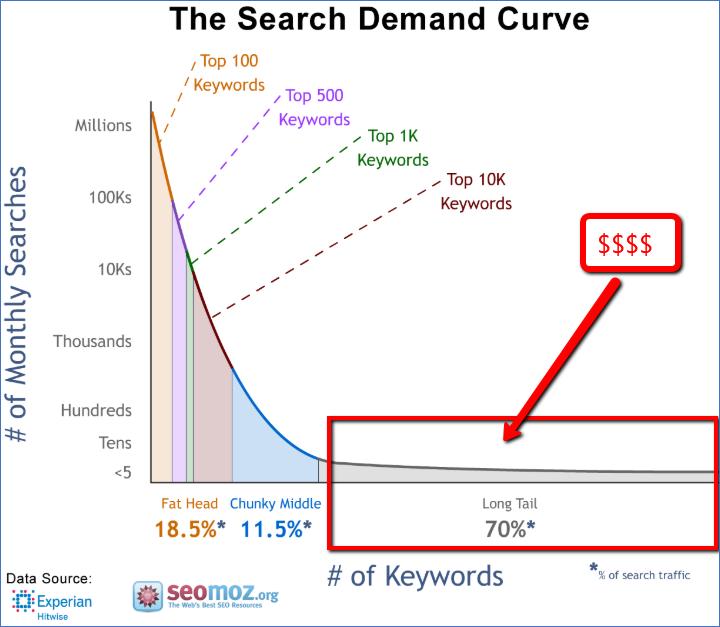 These are the thousands of keywords searched for each month right in Tulsa by folks trying to solve their problem themselves, and if they aren't successful, THEN they will turn to who they have to PAY.
We want to catch them while they are still in "research" mode. This is where the OPPORTUNITY and the low hanging fruit is!
When I Googled "my furnace won't turn on" in Tulsa, I see a VERY different list of sites compared to "hvac companies."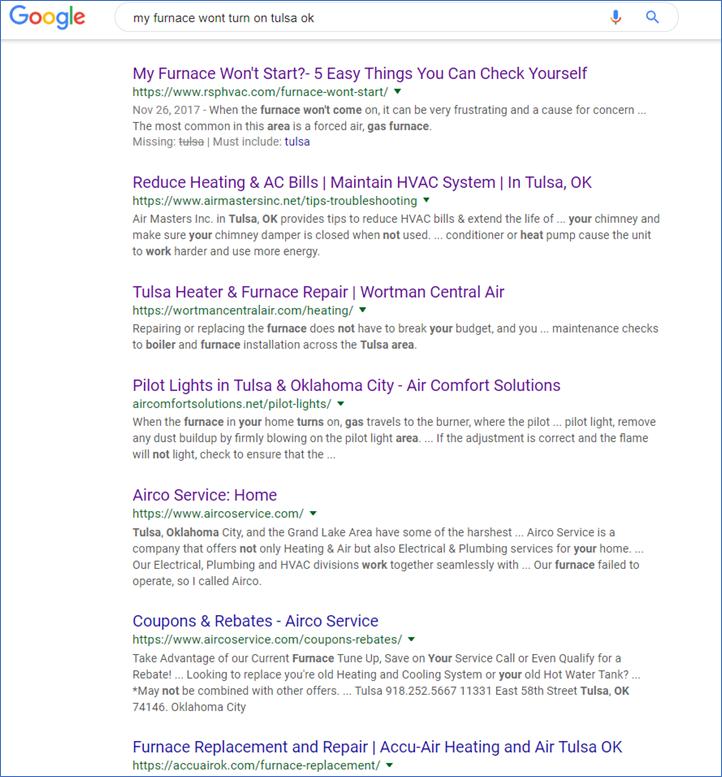 This is such a tremendous opportunity for every Heating & Air company, not just in Tulsa, but all over the country.
Here is a personal example of the long tail of search in action.
Last summer, when my pool cover wouldn't open, the first step in solving my problem was to Google "pool cover won't open." Of course it was. I didn't know anything about pools. Maybe there is some secret to getting the cover open, like the red button on the bottom of the garbage disposal. No such luck here, though. Before I was going to spend $100 on the pool guy (and likely wait a WEEK), I was going to see what I could find on my phone. This search term is a GOLDEN opportunity for every pool company here in Wichita.
What did I find? Not a single local company when I searched for 'pool cover won't open'.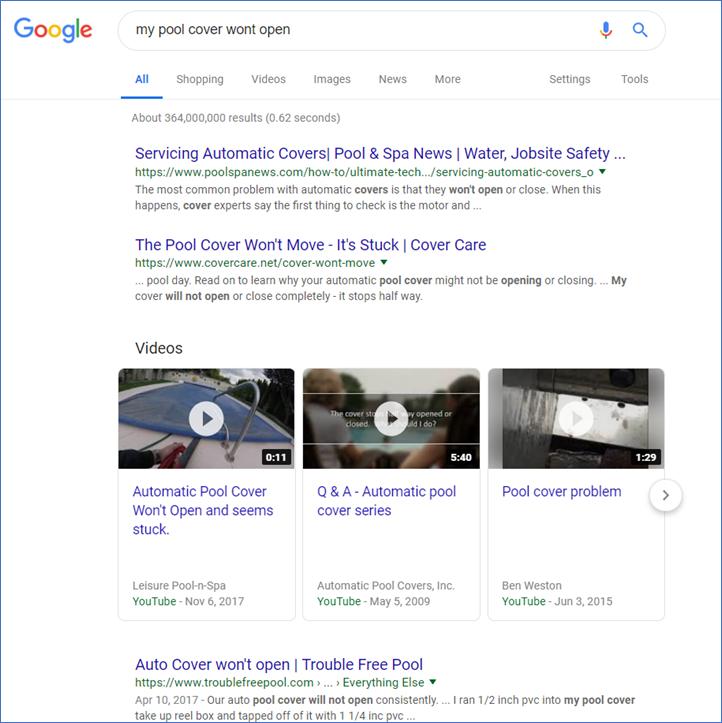 These are the "easy" fights because nobody else is fighting them!
This is a small sample of the thousands of keywords your potential customers type into Google on a regular basis:
| | | | |
| --- | --- | --- | --- |
| # | Keyword | Difficulty | Volume (desc) |
| 1 | rheem furnace | 0 | 6600 |
| 2 | emerson thermostat | 0 | 6400 |
| 3 | a/c pro | 0 | 5300 |
| 4 | gas wall heaters | 0 | 2800 |
| 5 | ducane furnace | 0 | 2800 |
| 6 | 3.5 ton ac unit | 0 | 2500 |
| 7 | window heat pump | 0 | 2200 |
| 8 | furnace blowing cold air | 0 | 2200 |
| 9 | commercial cool portable air conditioner | 0 | 2000 |
| 10 | north america hvac | 0 | 2000 |
| 11 | how to reset honeywell thermostat | 0 | 1900 |
| 12 | vertical air conditioner | 0 | 1600 |
| 13 | furnace generator | 0 | 1600 |
| 14 | no power to thermostat | 0 | 1300 |
| 15 | 4 ton heat pump | 0 | 1300 |
| 16 | thermostat not reaching set temperature | 0 | 1200 |
| 17 | heater is blowing cold air | 0 | 150 |
| 18 | honeywell air conditioner | 1 | 2700 |
| 19 | ameristar hvac | 1 | 2500 |
| 20 | floor furnace | 1 | 2300 |
| 21 | day and night furnace | 1 | 2100 |
| 22 | hopewell furnace | 1 | 2000 |
| 23 | coleman furnace parts | 1 | 2000 |
| 24 | goodman air conditioning | 1 | 1900 |
| 25 | hvac compressor | 1 | 1700 |
| 26 | fan that blows cold air | 1 | 1400 |
| 27 | dirty evaporator coil | 1 | 1400 |
| 28 | ac won't turn on | 1 | 1300 |
| 29 | furnace limit switch | 1 | 1300 |
| 30 | heater not working | 1 | 1300 |
| 31 | outside ac unit not running but inside is | 1 | 1200 |
| 32 | furnace won't ignite | 1 | 1200 |
| 33 | hvac troubleshooting | 1 | 1200 |
| 34 | ac not blowing cold air | 2 | 3600 |
| 35 | honeywell air filter | 2 | 3000 |
| 36 | goodman furnace reviews | 2 | 2700 |
| 37 | ac blowing hot air | 2 | 2700 |
| 38 | induction furnace | 2 | 2400 |
| 39 | trane comfort site | 2 | 2300 |
| 40 | air conditioner not blowing cold air | 2 | 2000 |
| 41 | thermostat not working | 2 | 1800 |
| 42 | 2 stage air compressor | 2 | 1700 |
| 43 | armstrong furnace | 2 | 1500 |
| 44 | why is my air conditioner not cooling the house? | 2 | 1100 |
| 45 | reliable heating and air | 3 | 6900 |
| 46 | ac not cooling | 3 | 4500 |
| 47 | furnace humidifier | 3 | 4100 |
| 48 | wall furnace | 3 | 2600 |
| 49 | standard electric | 3 | 2400 |
| 50 | the furnace | 3 | 2300 |
| 51 | best furnace filters | 3 | 2000 |
| 52 | 12000 btu window air conditioner | 3 | 1800 |
| 53 | ac not blowing cold | 3 | 1200 |
| 54 | hvac design | 3 | 1200 |
| 55 | what is forced air | 3 | 1200 |
| 56 | central air not cooling | 3 | 1200 |
| 57 | air repair | 3 | 1200 |
| 58 | day and night ac | 3 | 1200 |
| 59 | hvac financing | 3 | 1200 |
| 60 | hvac rectangular duct | 3 | 1100 |
| 61 | ac blowing warm air | 3 | 1100 |
| 62 | goodman furnaces | 4 | 2100 |
| 63 | furnace pressure switch | 4 | 2100 |
| 64 | furnace blower | 4 | 1800 |
| 65 | rheem furnace parts | 4 | 1500 |
| 66 | honeywell thermostat help | 4 | 1400 |
| 67 | air conditioner not turning on | 4 | 1400 |
| 68 | furnace pilot light | 4 | 1300 |
| 69 | furnace thermocouple | 4 | 1200 |
| 70 | air conditioning condenser | 4 | 1200 |
| 71 | goodman furnace | 5 | 22000 |
| 72 | honeywell humidifier | 5 | 15000 |
| 73 | mini air conditioner | 5 | 11000 |
| 74 | air conditioner repair near me | 5 | 6100 |
| 75 | a/c repair | 5 | 5200 |
| 76 | amana hvac | 5 | 5000 |
---


GOOGLE MY BUSINESS PLATFORM
Google provides a free platform that allows you to show off your address, industry, hours, fax number, holiday hours, description of your business, tagline, and an entire list of other details. They will verify and display all this right in the results when somebody searches for your business.
Just Google your business name and you will see a box to the right.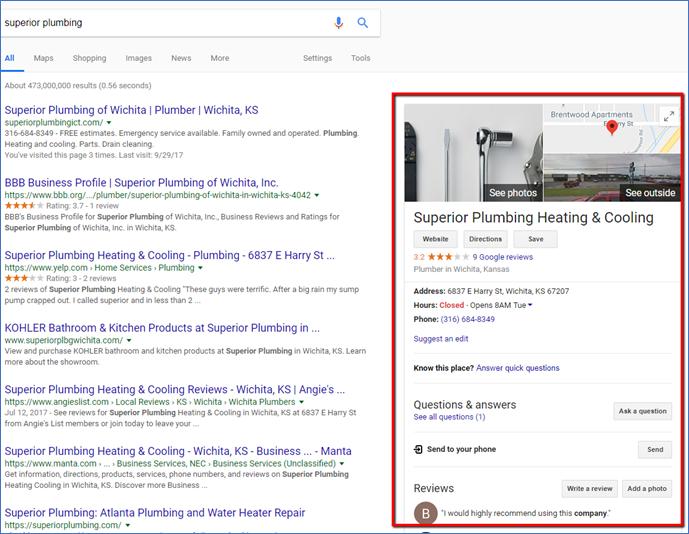 Why is Google My Business important?
Claiming your business's Google My Business profile is STEP #1 in improving your rankings on Google and the traffic to your website!
For example, these are the options I find when logged into the Google My Business profile:
Recent posts about special offers or announcements
Insights on how much traffic my profile is getting
Details about my companies contact info, address, fax, tagline, category, holiday hours, and more
Reviews with the ability to respond right from the platform
The ability to set up messaging right from the first page of Google to your cell phone!
The ability to add photos in a dozen different areas!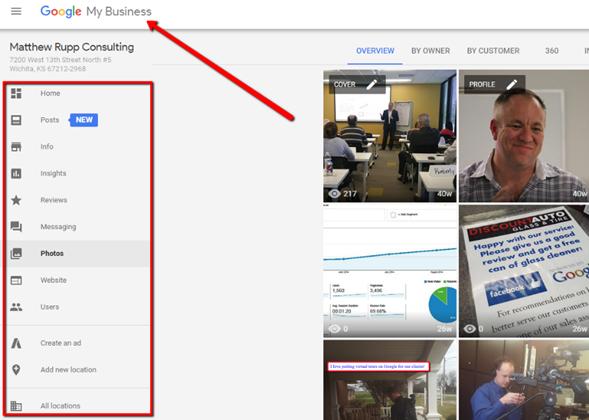 A huge opportunity for HVAC companies in Tulsa is to share recent photos of your business. Google recently added more categories and has even come right out and said that more (and recent) photos will result in more clicks to your website!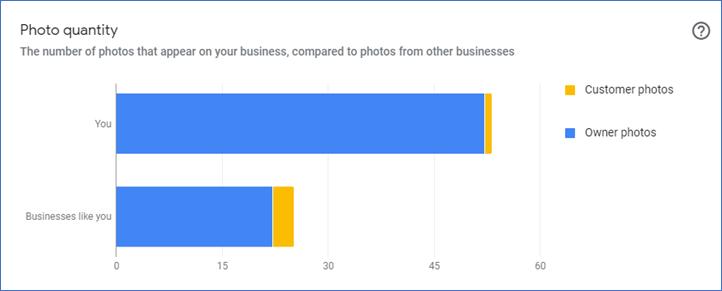 Clearly, photos are very important to Google!
We have NO Super heroes in this category:
Air Assurance has a handful of decent photos on their GMB profile.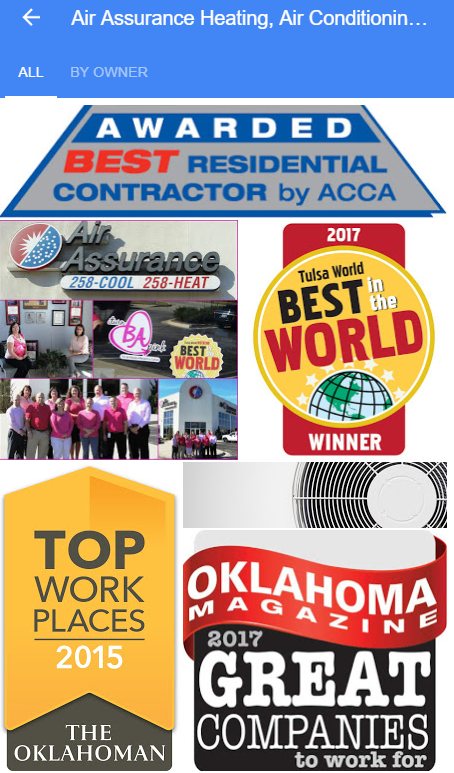 Polar Bear has quite a few photos but none of them, except this one, show off their team or have any personality.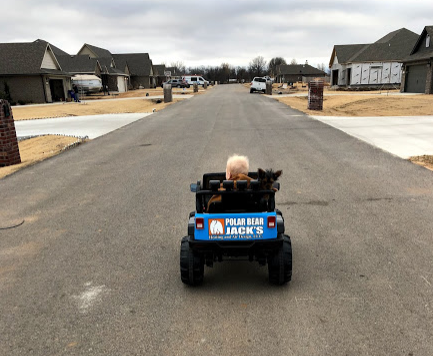 DaVco has a few decent ones.
One of the TWO photos Ace Air has on their GMB profile: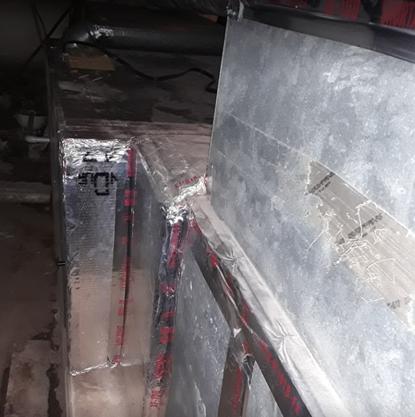 Quality has this ONE superb team photo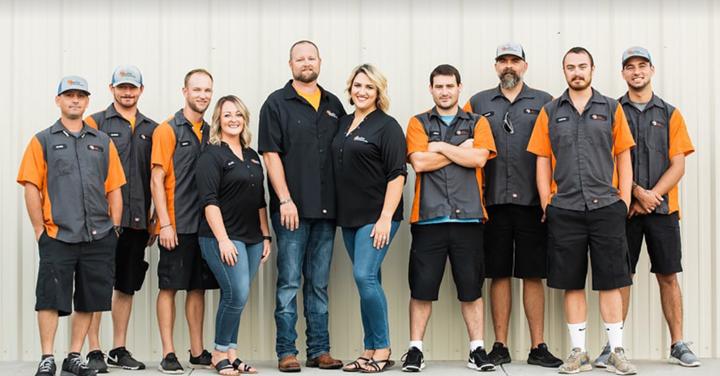 And this beauty. That's it.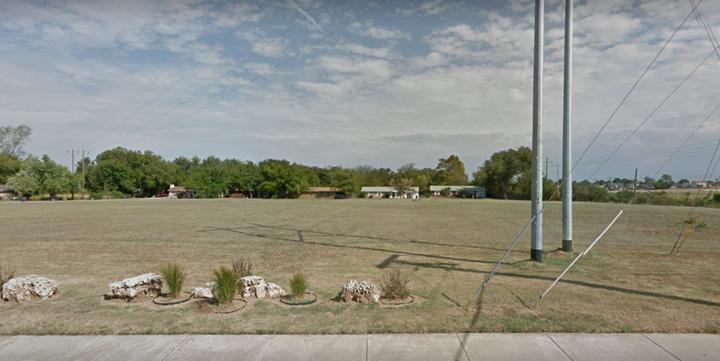 Air Comfort is making an effort.
Here is an example of one of our HVAC clients, Hanna Heating & Air, Google My Business profile
SEVENTY-NINE PHOTOS!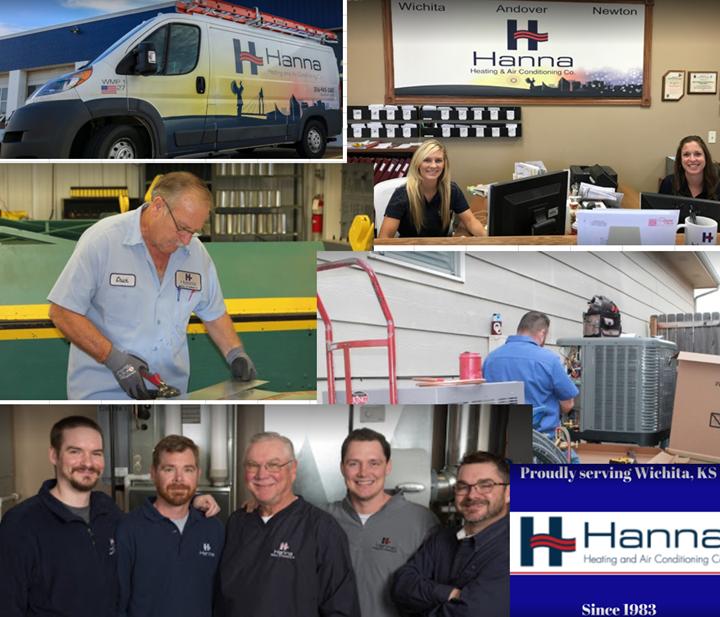 ---


REVIEWS
It's good to be praised by clients that you did a job well done, but the reviews that I'm talking about are specifically those you receive online. These tell Google where your business should rank when people are searching for what you do.
Reviews are invaluable to a service-oriented business today, so it's hard to overstate just how important this section is!
Customers love leaving online reviews!
Potential customers love reading them!
Customers are becoming increasingly reliant on reviews before making a buying decision!
Facebook and Google are constantly encouraging their users to review businesses they visit and even become "local guides."
It's a ranking factor to Google, which means it can impact the amount of traffic a website receives and, ultimately, how many phone calls you receive.
A few of the HVAC companies in Tulsa are knocking this one out of the park!
Superheroes in this category:
Air Assurance is smashing this category with 440 reviews and 4.8 stars!
Dale & Lee are #2 with 129 reviews
A Best is right there with 128
Harp (99), Quality (89), Custom (55), and DaVco (58) are making a strong showing.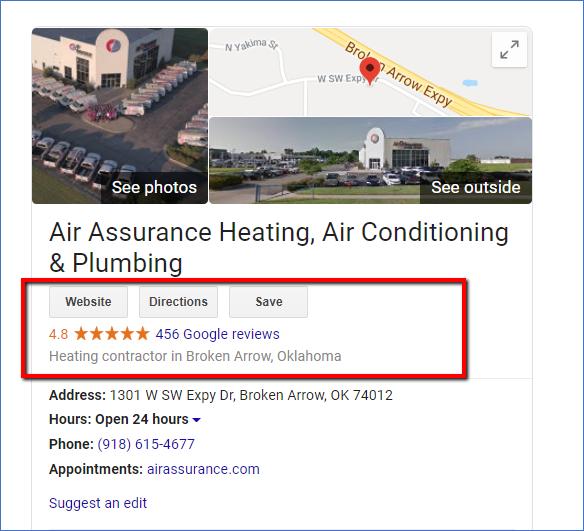 ---


BACKLINKS
This was a HUGE part of my success with getting the Big Sky Party Rentals website to dominate Google. I got that business ranking on the first page of Google for hundreds of keywords with hundreds of clicks each month! We did almost 400k in sales the year before I sold the business and didn't spend a penny on advertising! (You can read about it here if you wish.)
What are backlinks?
When you can click on something on website A (an image, a piece of text, a video—just about anything) and are taken to website B, that means website A is "linking" to website B.
To Google, links are basically votes of confidence.
Superheroes in this category:
Air Assurance has a domain authority of 21 and 2.14k links pointing to their website!
Dale & Lee has a domain rating of 19 with 788 links!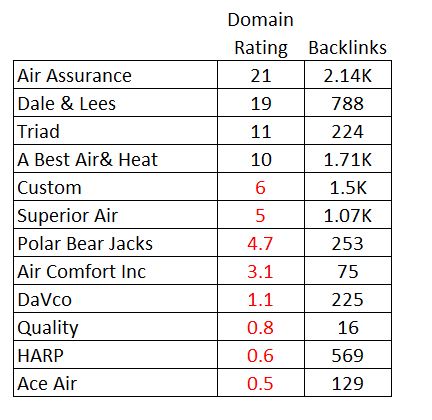 One of the first steps we do with all our clients is to compile a list of ALL the websites that have links pointing to every one of their competitors and then exploring this list one-by-one for opportunities to build links to YOUR site. This can be tremendously impactful for our clients. To get an idea what this list for you drop
Matthew an email here
.
---


MOBILE FRIENDLY
It's not often Google that comes out and says, "If you do this, then you will rank higher and get more traffic." But they did where mobile friendliness is concerned.
So many people these days are often accessing the internet from their mobile phones, tablets, etc. If your website is slow and hard to navigate on these devices, then it's definitely going to hurt you.
How can you tell if your website is mobile friendly?
Easy. Simply pull up your website on your cell phone. If everything is in a nice, neat, logical order, and all the menu items are accessible, and when you click on the phone number it dials your business–then this is likely a mobile friendly site.
If you have to move the screen side to side to see everything, if the font really small or hard to read, or if any buttons don't do anything when you click on them, then your site is certainly not mobile friendly.
One way to be sure is to visit this free tool provided by Google – https://search.google.com/test/mobile-friendly

The only website we looked at in the Tulsa area that is NOT mobile friendly is Harp – http://getharp.com/
My team and I are only going to help ONE HVAC company in the Tulsa area. Once we find that right fit, this case study comes down and we get busy showing Google why YOUR company deserves to be #1.
---


SITE SPEED
Why is site speed so important?
This one is a no brainer. We have all visited a website and had it load sooooo slowly. I am sure you can attest to how quickly you move on when you run into a website like this.
This is definitely one of the EASIEST wins for our clients. It's amazing what improving a website's speed can do for a its rankings, the amount of traffic, how long visitors stay, or how many pages they look at.
Superheroes in this category:
This section is shocking just HOW poorly a lot of these companies are doing in this area!
A Best Air has a mobile site speed of 4 out of 100!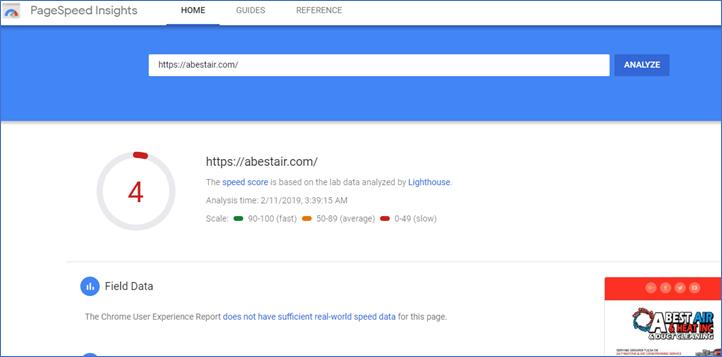 Triad, Superior, Dale & Lee, Polar Bear, and DaVco are all fast on desktop, but they all are either SLOW or average when it comes to mobile!
Air Assurance is another one that's been highlighted in this case study a lot. They have a mobile site speed of 7/100! Ouch.


Does Google provide a free tool that you can use to check the speed of your website?
They sure do! You can visit – https://developers.google.com/speed/pagespeed/insights/
---


CITATIONS
What are citations?
A citation is any mention of your business N.A.P. (name, address, and phone number) anywhere on the web. It could be from directory sites like yp.com, Citysearch, your company's social media profiles, an industry source, or a non-profit you contribute to.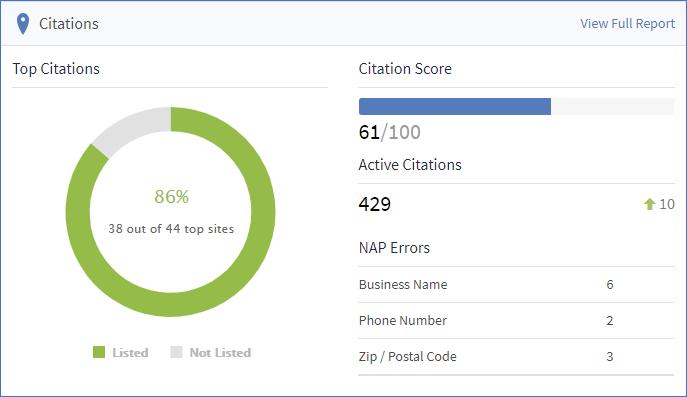 How important are citations to your business?
VERY!
To Google, these act as credible sources of information about your business. If your business has had significant changes over the years like:
Name change
Acquiring a competitor
Change of address
New phone number
Dissolving a partnership
Divorce
Very often, situations like these will leave a trail behind a company of "old" addresses, incorrect zip codes, old tracking phone numbers–this can dramatically hurt Googles ability to "trust" your business.
Here are the superheroes when it comes to citations:
Harp is leading the party with a citation authority of 43/100 and 73 active citations.
Superior has a citation authority of 42/100 with 63 active citations.
Air Comfort and Ace both have a citation authority of 40/100 with 68 and 73 respectively.
---


CLOSING
There you have it.
Was this helpful? Interesting? Eye Opening? We would LOVE to hear your thoughts!
We have a BUNCH more planned that we will be sending your way. Our goal (if you missed it) is to work with just ONE HVAC company in the Tulsa area and help them just OWN that first page of Google and make their phone ring like crazy.
We are very picky about who we work with and never have more than 10 clients at a time. Reach out today to have a chat and see if we might be a good match.
TOP TEN REASONS YOU WILL LOVE WORKING WITH US:
I have an entire team of smart, driven people who are experienced in web design, copywriting, content marketing, and all things Google.
We speak English, not technical jargon.
We only have 10 clients at a time. They aren't just a number to us.
We take your success seriously–it's personal to us.
We don't just share ideas and theories. We come out, put the time in, roll up our sleeves, and DO the work.
I am a serial entrepreneur who has built four service businesses. I know the importance of RESULTS.
We know who we can help the most and we are very selective about who we work with.
You will benefit from the work we do together for years to come.
I know what I am doing, and I know how to grow your business. I have taught it, given lectures on the subject, and worked with dozens of companies just like yours.
Integrity is everything to me