Because of this pandemic, I find myself at my office with a 14 year-old-boy sitting behind me. My son has learned to adjust to doing remote school while I am still working to adjust to the demands of running a business to match the schedule of a 7th grader nearly every day. Fortunately that gives me someone to go to lunch with.
On this day, we left the office and went through the drive-thru of our favorite BBQ spot in Wichita. And while there, a thought hit me…
WHAT IS MARKETING?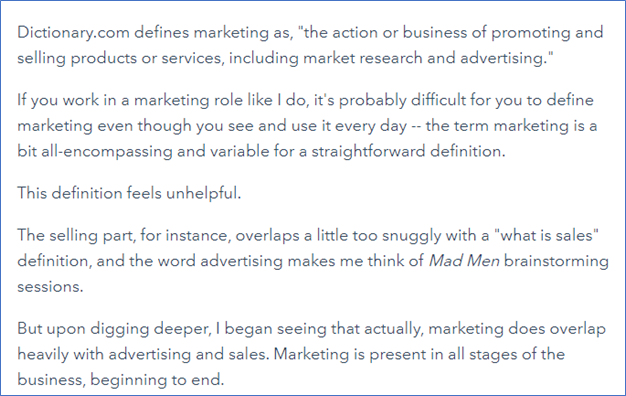 It is also very interesting what Marketing Insider has to share.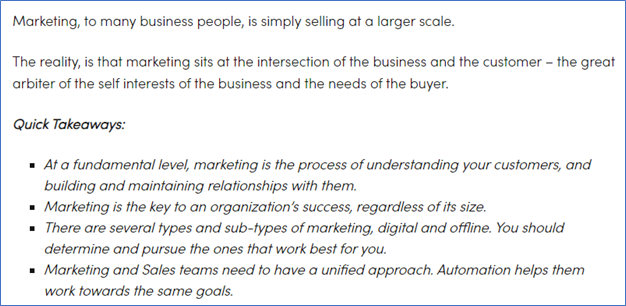 And some great key takeaways from Investopedia…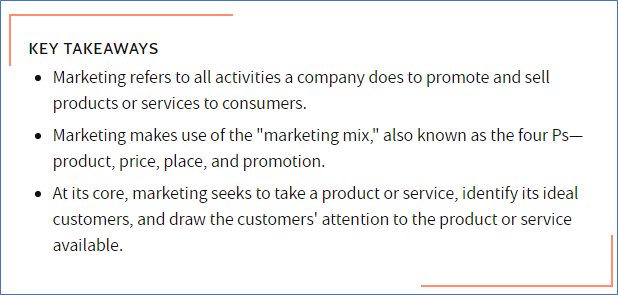 Accrue Marketing has a superb article on the question "what is marketing" and a great lead-in to my epiphany sitting in that drive-thru with my son today.

BACK IN THE BBQ DRIVE-THRU
While I was sitting there in my truck this is what I noticed – a paper sign taped in the window that is so faded it's barely legible.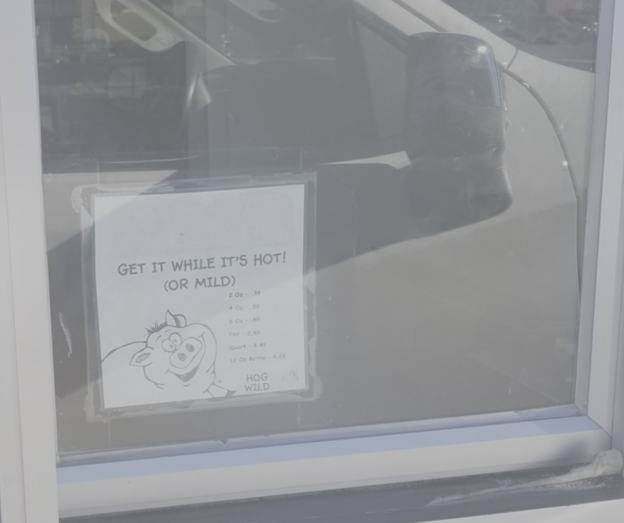 Credit card signs that have been there for years…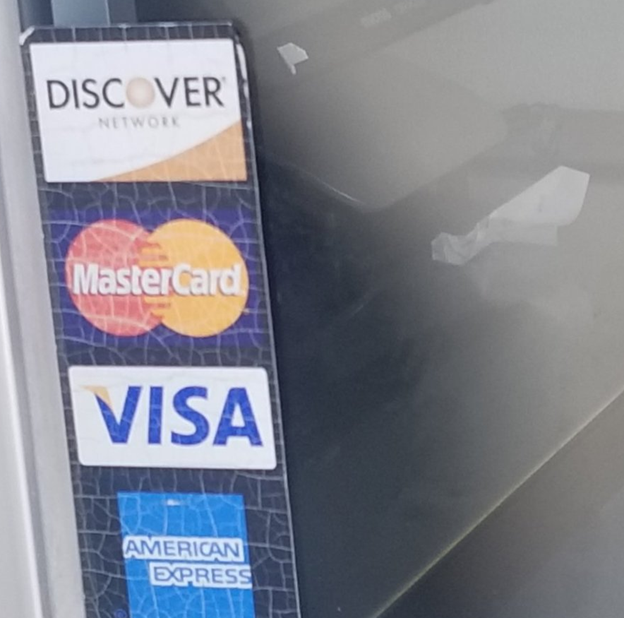 And worse yet is the view its drive-thru customers get while they are waiting on their food…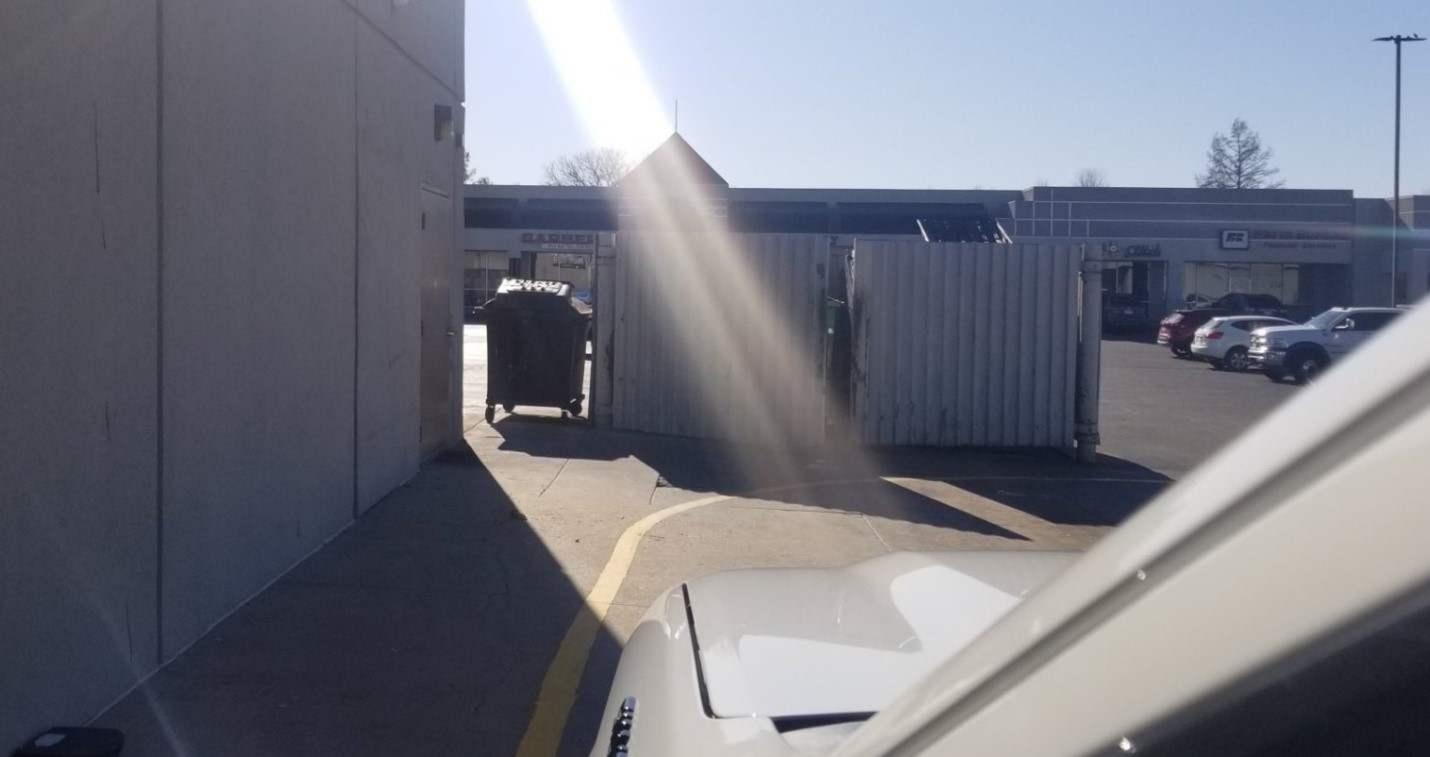 The ground is stained with grease, the doors look horrible and, in the summer, there are great big crows all over the whole area.
Keep in mind this isn't some hole-in-the-wall BBQ joint, one of those dives that has been in business for 92 years with some local character who is a BBQ genius who people come from miles away to visit.
This is a pretty large company that spends (I am sure) over a million dollars a year on their marketing. They have 16 locations (with more planned) and a strong online presence.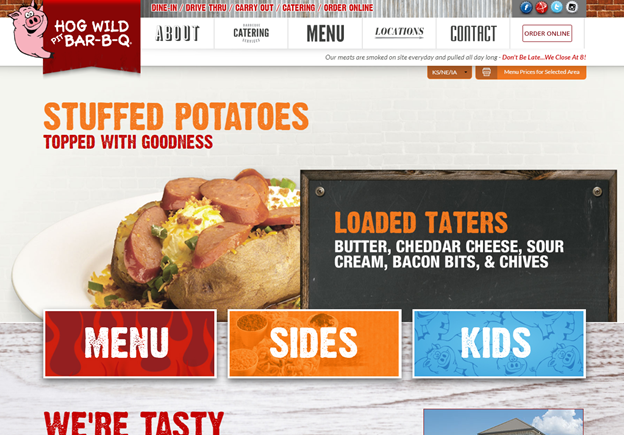 Hog Wild Pit Bar-B-Q has been on the news, local TV shows, was voted best BBQ in Wichita and has a radio jingle few Wichitans will ever forget.
BACK TO THE BIG MARKETING QUESTION
Now, let's get back to my point and to the original question. While I was sitting in that drive-thru looking at that disgusting garbage area, the faded signs, and the sloppy caulking on the dirty window I was thinking, "What terrible marketing!"
It may be easy to think of marketing as something a marketing agency does, but it's much more. Marketing is everything your customer hears, sees or perceives about your business.
That made me think about our HVAC clients that we serve. While our agency is tasked to handle the marketing for our clients, there is so much more to marketing than a lot of business owners are aware of.
It's easy to operate day-by-day with your focus on the bottom line and with the expectation that everything is running just as it should. But when was the last time you really looked at your business through your customers eyes?
DOES YOUR BUSINESS PASS THE CUSTOMER EYES TEST?
How does your company really look to your customers? Do they see it just as you do – as a company that takes pride in appearances, customer service and professionalism? Or will you find your own version of ugly trash bins in the drive-thru?
Here are some exercises and questions to ask yourself to help you see your company through the eyes of your customers
Have you ever had a family member or friend call your business on speaker phone while you listen in just to see how it sounds on their end?
Do you listen to calls coming in to your business each month and how they are handled?
How often do the guys clean the company vehicles?
How important is it that the guys you hire maintain a sharp appearance? A well-groomed haircut and facial hair? You might not think it matters but IT DOES.
How important is it their shirt is tucked in? That their shirt isn't stained? That they treat the customer respectfully really understand what 'great customer service' means?
I know it's impossible to grow a large successful company while you're worried about handling every detail. Take a look at large successful franchises like McDonald's. McDonald's has sales of roughly 75 MILLION dollars a day. You know that is not because their food is that good (although my son would disagree). It's because they have consistent processes and strict standards they enforce.
MARKETING THE COMPANY, NOT JUST THE WEBSITE
When I started this agency, it was to help local businesses best utilize all the ways the internet can market and grow your company. But I came at it from the perspective of a small business owner myself, not as a typical marketer. So my focus has always been on the big picture of doing what it takes to make the phone ring.
While that means we are designing websites, growing social media pages, getting companies found above their competition on Google, we've never stopped there. Because marketing is so much more, we help our clients understand every way they can market their company… even if that means getting out the chainsaw.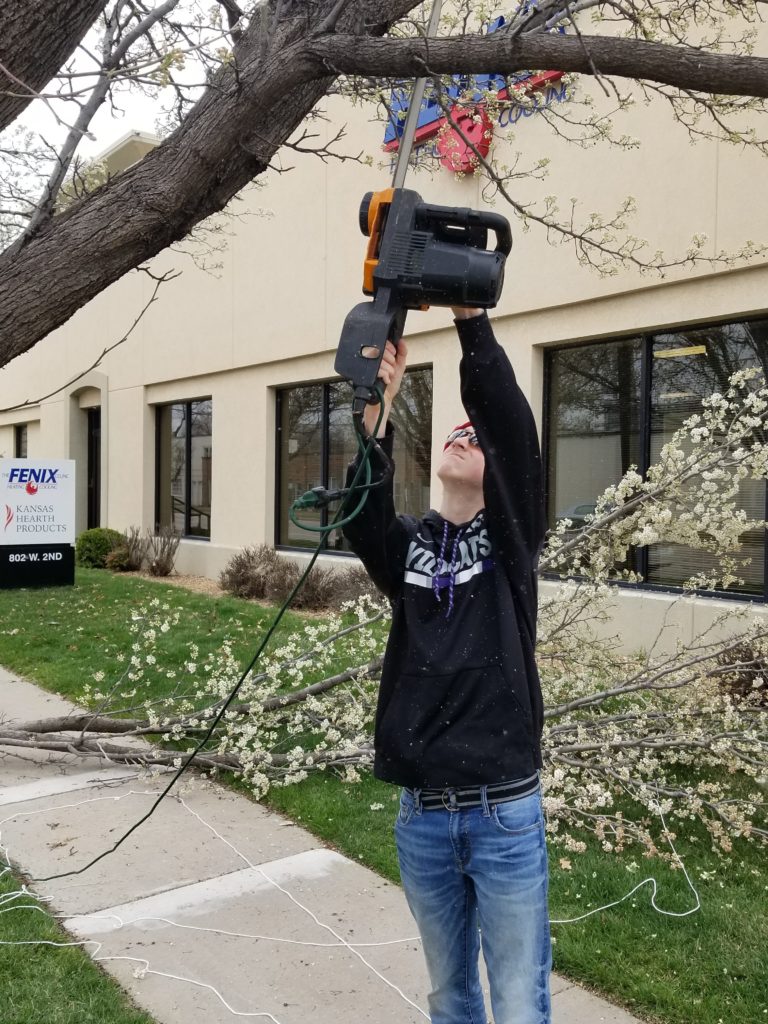 MARKETING WITH A CHAINSAW
As someone who has spent decades running a small business, I know that wherever there is an opportunity to get more customers, get more phone calls, and make more sales… you take it.
So when the beautiful trees our client had planted decades ago became so overgrown you couldn't even see their big logo on the building from the street, I decided to step in. This local HVAC company is located on a busy street, one that's only gotten a whole lot more traffic since the massive new downtown library was built right across the street. So once I got the go-ahead from the owner, I volunteered my 2 sons to go out and slim down some of those branches.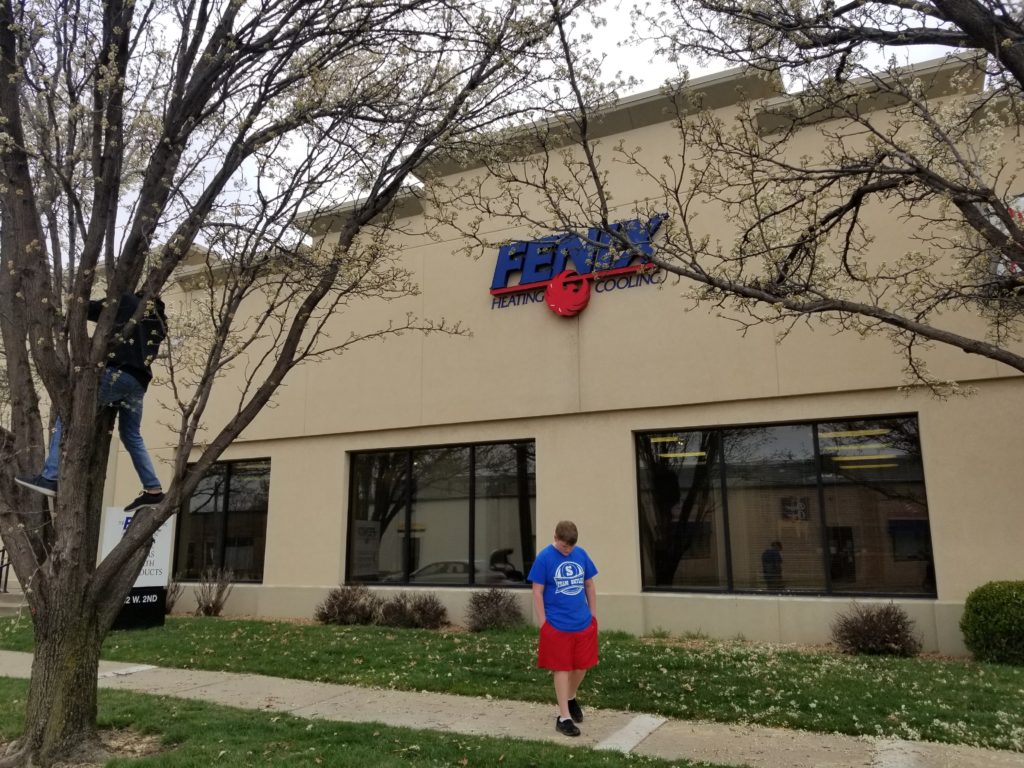 It turned out we cut down those branches the same week the country was shutting down for the pandemic. I'm not sure how much my youngest appreciated being "voluntold" for the job. But I'm sure he'd much rather be out sawing down unruly branches now than dealing with me as a virtual teacher's assistant during a pandemic.