Are you ignoring most of your traffic?
What is the long tail of search?
Let me start by clarifying what "keywords" are. Last month, Google processed 100 billion searches. The word or string of words people typed into the search bar are called "keywords."


Why is this important? If you want leads and traffic and sales from Google, it means a great deal.
It's not uncommon for me to start working with a new client who wants to rank for "insert very high volume keyword here." The problem with very high volume keywords is that's where the competition is the greatest; that's where it will be the hardest, most time consuming and most expensive to produce results.
Then I explain the really good news. With keyword research, we find keywords that will be:
Much easier to rank for
Easier to produce great content relative to your customer's needs
Have a much higher chance of converting into a customer
Let me provide a clearer explanation on keyword research, illustrated in the image below:
Let's say you operate a shoe store and want to generate more business using your website. You learn about the importance of producing relevant content to help improve your rankings and traffic, but what should you produce content about?
By understanding the long tail of search and doing keyword research, you can see that "shoes" gets a tremendous volume of traffic, but is extremely competitive. "Men's shoes" get slightly less traffic, but is still extremely competitive. As you move down the graph, you move into keywords that are more descriptive, but they also contain buying signals and are much less competitive and easier to rank for.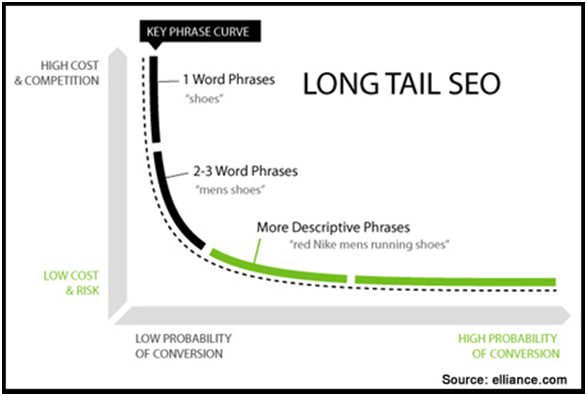 Understanding the long tail of SEO helps you build content around keywords that are relevant to what your customers are typing into search engines, and more than that, allows you to target keywords that give "buying signals."
Just to give you an idea how powerful the long tail of search is. On a daily basis, 15% of the searches on Google – 500 million searches – have never been searched for on Google ever, and that has continued for the nearly 15 years Google has existed, according to John Wiley, the lead designer for Google Search.
The most interesting aspect of the long tail of keyword research is that as many searches as the high volume keywords get, they never equal the total volume of searches—if you add up the long tail.
To recap, here is a blog post I wrote on Keyword Research. We did research for a spine surgeon and discovered the following: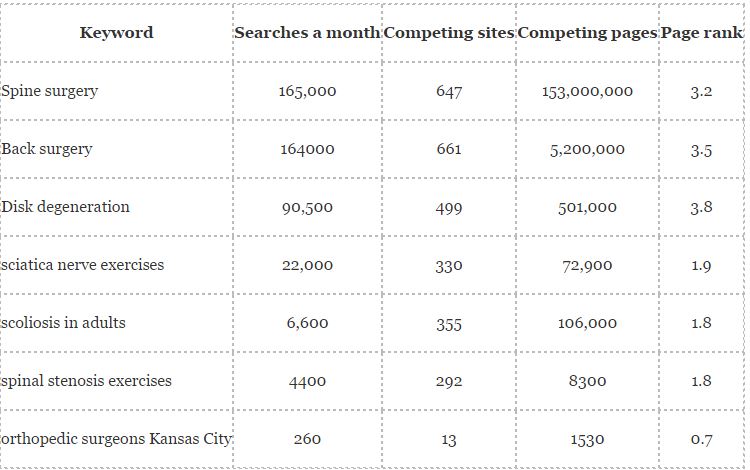 *Pagerank is an indicator of a sites strength or relevancy for the keyword you are searching for
That, right there, my friend, demonstrates the power of Internet marketing.
If you set out to rank for spine surgery, you would be competing with 647 websites that have a combined millions of pages relevant to spine surgery —many of which have thousands of relevant links and have earned a high level of trust from Google. This is not a fight you will win without a great deal of time and money (if ever).
Granted, the further down the list you go, the number of searches goes down too, but it also gets much easier to rank, and the best part is in seeing which keyword is most likely to turn into a customer (assuming you are a spine surgeon in Kansas City)? That, my friends, is the magic of Internet marketing. Don't fight to be #1 for the same keywords everybody else is fighting for, produce great content where there is demand, and what little competition there is weak.
Have you found this article on long tail keyword research interesting or helpful? Please share with your friends.
If you are interested in how we can put keyword research or the long tail of search to work for your business, give us a shout at 316-285-0729, or shoot us an email.
Additional resources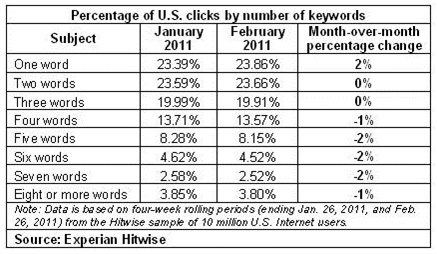 soure: Hitwise
Superb video by Rand Fishkin
How Google is changing long-tail search with efforts like Hummingbird – Whiteboard Friday
Popular book by Chris Anderson
The Long Tail: Why the future of business is selling less of more.
---
If you would rather focus on running your business and turn this over to a team that lives for this kind of stuff give us a call today at 316-285-0729.
If you are ready to crush your competition online and really make your website a valuable piece of your business schedule a no obligation strategy session with Matthew Rupp today.